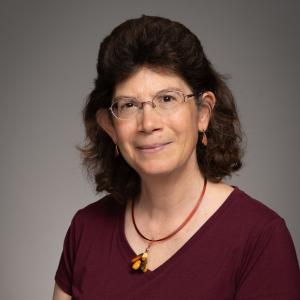 Beth Salerno
---
Professor & Interim Associate Academic Dean
Education
2000 - Ph.D., University of Minnesota Twin Cities - U.S. and Comparative Women's History
1994 - M.A., University of Minnesota Twin Cities - History
1991 - B.A., Haverford College (PA) - History and Africana Studies
I teach students that past and present are connected, even though the past was often very different from now. The nation in which we live makes much more sense when we see how its economy, race relations, political system, and even myths and stories developed over time. My courses include New England History, Environmental History, Jacksonian/Antebellum U.S. History, Women's History, Public or Applied History, and the History of Citizenship. I also teach in Conversatio.
My research explores the rapidly changing United States in the early republic or antebellum period (between the Revolutionary War and the Civil War). I study people who chose to make change in the world, who were able to organize others, and who wrote about the power, promise and perils of change.
My first book Sister Societies: Women's Antislavery Organizations in Antebellum America looked at how women from Maine to Pennsylvania and west out to Michigan formed organizations to abolish southern slavery. I was interested in how these groups formed, the activities they engaged in, and how the women overcame violence, verbal critiques and their own internal disagreements in order to succeed. More specifically, I explored the networking and mentoring relationships women created, and the gendered understandings of citizenship with which they justified their work.
I am now writing a biography of Concord, NH native Mary Clark (1791-1841). Clark was recognized by her contemporaries as one of the most valuable female antislavery activists in New England. She saw her antislavery work as extending the freedoms gained by the American Revolution. She also wrote history textbooks for Massachusetts and New Hampshire schools to ensure that children grew up to be informed and active citizens for the republic. Clark was an active reader, but limited in travel due to a disability. Her letters to friends and acquaintances provide humorous, thoughtful and perceptive windows into life in early nineteenth century New England.
Sharing history with the public through NH Humanities Council, teacher training, and public talks.
Accreditation and accountability - explaining what historians and educators do, and proving that we do it.
Academic governance - ensuring that faculty have the power to shape and direct the education of students.
Science fiction and fantasy in books, movies and television.
Local food, from my garden, kitchen, farmers' markets, and restaurants.
Long walks with good company in beautiful places.