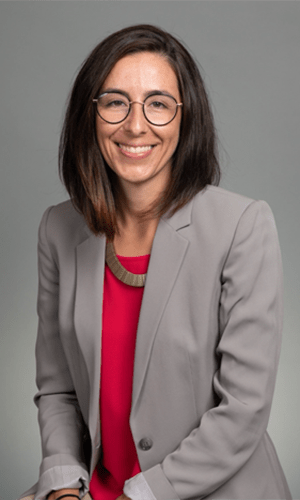 Inés Vañó García
---
Assistant Professor, Modern Languages
Education
2021 - Ph.D., The Graduate Center (CUNY), Spanish Linguistics
2018 - M.A., The Graduate Center, (CUNY), Spanish Linguistics
2006 - B.A., Universidad de Alicante (Spain), Filología Inglesa / English Studies
My Spanish sociolinguistics approach adopts a critical perspective that addresses the relationship between language and politics in order to delve into how language representations, linguistic and social practices are inscribed within unequal social hierarchies of power.
My dissertation "Discursos institucionales y manuales de texto de la American Association of Teachers of Spanish (1912-1944): un estudio de la historia política de la enseñanza del español en Estados Unidos" focuses on the political history of the teaching of Spanish in the United States during the first half of the 20th century. My work draws from the history of the American Association of Teachers of Spanish (1917), along with key linguistic instruments created by its members, and examines its role in the creation and shaping of a new academic field.
Peer-Reviewed articles:
Vañó García, I. (2022). Érase una vez la American Association of Teachers of Spanish (1917-1944): los inicios de la enseñanza del español en Estados Unidos. Revista argentina de historiografía lingüística (RAHL), XIV, 1, 53-72: Access article here. 
Vaño García, Inés. (Under Review). A Call for Critical and Open Pedagogies in Spanish Heritage Language Instruction: Students as Knowledge Producer of Open Educational Resources (OERs).
Edited Journal Issues:
Vañó García, I., Karlin J., & Michael K. Eds. (December, 2022) Introduction to Issue Twenty-One: open Educational Resources. Journal of Interactive Technology and Pedagogy (JITP), 21: Access article here.
Book Reviews:
Vañó García, I. (2021). Review of Open education and second language learning and teaching: The rise of a new ecology. Language Learning & Technology, 25(3), 62–65. Access PDF here.
My language pedagogy engages with critical pedagogy frameworks where student-centered and student-driven approaches go beyond simply acquiring linguistic skills; metalinguistic issues, significant cultural and socio-political concerns are introduced on the first day of class. Thus, I conceive of language courses as content courses where I motivate students to be creative and active critical thinkers, always encouraging interdisciplinary collaborations.
My teaching and learning approaches foster knowledge and inquiry; I envision students as knowledge producers instead of knowledge consumers. My open pedagogy based on transparency and self-reflection moves away from approaches the externalize and stereotype language learning, and builds on a global language classroom focus on students' understanding, questioning, and compassion.
SP 100-150: Elementary and Intermediate Spanish
SP 300: Spanish IV (Language in Action!)
SP 350: Spanish Writing Workshop
SP 353: Spanish Advanced Conversation
SP 372 ST: The Power of Language