Highlights of Alumni Who Majored in History
Anselmians all over the country work as teachers, reporters, dentists, public relations and human resources professionals, librarians, and historians. Meet a few:
Jessica Galiczewski 2016 - Economics and Finance Double Major with History Minor

I chose to minor in history because I had credits from high school that could be applied here and I just really love the subject. The biggest skill/benefit from having a history minor is learning to apply concepts to the past. Being an Economics and Finance major, much of the material learned in a contemporary American history class can be applied to economic and financial situations. I also think the amount of writing required in most history classes benefited me as a writer in my other courses at Saint Anselm. It definitely was great to have some diversity in my schedule as well and be able to study something much different than what you would find in an Economics/Finance course. My experience with the history department was great. Challenging, yet completely useful!

Emily Erickson 2016 - Biology Major with History and Chemistry Minors

I minored in history because, while I did not think I wanted a career specifically in history, I have always been fascinated by history and I believe that everyone should know history. My history minor was a great break from my biology and heavy science courses. The skills I acquired from my history classes were definitely a huge benefit. The history minor increased my critical reasoning skills and improved my overall reading abilities. I wish I had had the opportunity to take more.
Laura Kalns, 2017, Chemistry major with Asian Studies minor

I minored in Asian Studies because I think learning about other cultures and histories is very important in the current global market. The Asian Studies minor was also a good way to reflect on my own American culture and beliefs. I was able to connect Asian Studies to Chemistry through my research. I researched the chemical and cultural backgrounds of two ancient Chinese pigments (studying how they would have been made in ancient China, who may have made them, synthesizing the pigments myself, and analyzing them using spectroscopy). This was very interesting to me, and a good break from the "standard" chemistry classes. It has also inspired me to try and do something similar in the future.

Alexis LaBrie, 2017, Criminal Justice and History Double Major with Asian Studies Minor

The biggest benefit I got from the Asian Studies minor is a better understanding of eastern cultures. The way Asian civilizations think and reason is very different from that of Western cultures. The minor enriched my criminal justice major as I looked to apply what I learned. I focus on cyber security and cybercrime. Right now, Asia has some of the highest development in the cyber world. By understanding the histories, philosophies, and cultures of Asia, I am able to better understand the mentality of the people in that region and apply that to my investigations.

Eleni Goddu, 2022, Marketing Major with English and Asian Studies minors

The Asian Studies minor gave me the opportunity to explore the diverse world of Asian culture, history, and language. This course of study was relevant to my major in Marketing because it exposed me to the values of countries with which I might have to do business in the future. As a result, I can create meaning and value for targeted consumers. For example, the minor made it possible for me to connect with the culture and history of the Japanese pharmaceutical company for which I interned; it allowed me to stand out from other candidates when interviewing for the position since I understood the company's beliefs and ideals. As part of the Asian Studies minor, I took Chinese language courses and developed a loving of learning Mandarin. I know this skill will enhance my ability to communicate with both customers and employees in Asia.
Samuel Brandeis 2018 - Politics and Communication Majors with American Studies Minor

As a double major in politics and communication I have been able to learn about how our country and society functions, but not our history. As an American Studies minor I am able to learn about the past that has shaped our nation. It wasn't until I took my American Studies class that I got the opportunity to read and analyze the thoughts behind important documents in our nation's history such as the Constitution, Bill of Rights, and Declaration of Independence.

Austin Connolly 2018 - Politics Major with American Studies Minor

Many people think they do not have the time for a minor. But with American studies, many of the courses from other majors or minors overlap with the requirements of the American Studies minor. In addition, there is some room to choose which classes you would like to take to fulfill the minor.
David Stamatis - Associate Attorney

If David Stamatis had not majored in History, he probably would have become an English or Philosophy major. But during his high school years, David liked his history courses the best. Not only that, but he was drawn to history because people's behavior and motives always fascinated him, and he could think of no better way to investigate these issues than through the lens of the past. At the same time, he believed, history helped explained why the world is the way it is today. As he puts it, he majored in History because, "The past provides the answer."

After graduating from Saint Anselm College in 2012, David attended the University of New Hampshire's Franklin Pierce School of Law. He thinks that majoring in History helped him immensely during his law school years. His History classes at Saint Anselm College placed an emphasis on writing, and he received a great deal of feedback on his essays from the faculty. Over time, he was better able to "make succinct points quickly and with persuasive effect"—skills that stood him in good stead in law school. As David puts it, "In a curious way, being a lawyer is very similar to being a student at its most basic levels. You have an opinion. If you want to convince someone of that opinion, you have to back it up with facts obtained from verified sources. Then, you have to create a cohesive argument based upon those sources. Frequently, you have to write out that argument and present it orally."

Today David is an Associate Attorney at Parnell, Michels & McKay, PLLC in Londonderry, NH. He works primarily in family law and bankruptcy matters, but he also helps out other attorneys by doing legal research, generating draft memoranda of law, producing legal briefs, and writing motions.

David has this to say to aspiring History majors: "There is not a day that goes by where I do not learn something new. The best advice I can give is that you need to challenge yourself. To put it brusquely, know that you know nothing, and seek to learn from that knowledge. Take the challenging class or challenging professor. Get advice and feedback from those classes and professors, and apply it to your writing. You are paying to be at a wonderful, challenging place for four years; make sure you get something out of it. If you don't, you are doing yourself a disservice."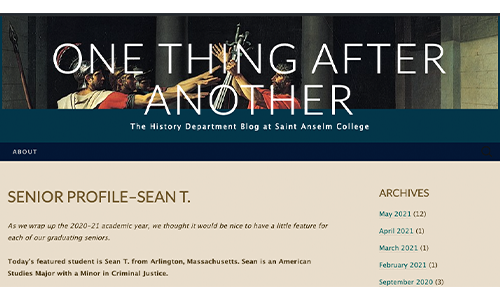 History Blog
One Thing After Another, the History Department's blog, will publish engaging information not only about the History Department at Saint Anselm College but also about the discipline of history in general.