The law is the second most common profession (after teaching) among History majors who have graduated from Saint Anselm College. This fact should come as no surprise since, according to the American Bar Association, the History major is widely considered a traditional undergraduate preparation for law school. Such is the case because the major stresses the core skills most prized by the legal profession: problem-solving, critical reading, effective writing, articulate oral communication, a capacity for research, and good general background knowledge.
To date, the college does not offer a pre-law major or minor because law schools prefer that students pursue a rigorous curriculum in a major that interests them. These schools would rather see undergraduates develop the skills listed above than obtain specialized knowledge of the law.
For more information about law school, please look at the Pre-Law and Law School page which is housed in the Academic Advisement Office's section of the College's website. The Law School Admission Council also has a site that you should consult if you are interested in law school. Finally, the American Bar Association has a website with important information about preparing for law school.
If you would like assistance in preparing for law school, please contact Stephanie Fernandez, the Assistant Dean of Freshmen and Academic Advisement, who serves as the pre-law advisor on campus. Please also contact Liana Pennington in the Criminal Justice Department for guidance in applying to law school.
Pre-Law Spotlights
Alumni Spotlight

If David Stamatis had not majored in History, he probably would have become an English or Philosophy major. But during his high school years, David liked his history courses the best. Not only that, but he was drawn to history because people's behavior and motives always fascinated him, and he could think of no better way to investigate these issues than through the lens of the past. At the same time, he believed, history helped explained why the world is the way it is today. As he puts it, he majored in History because, "The past provides the answer."
After graduating from Saint Anselm College in 2012, David attended the University of New Hampshire's Franklin Pierce School of Law. He thinks that majoring in History helped him immensely during his law school years. Today David is an Associate Attorney at Parnell, Michels & McKay, PLLC in Londonderry, NH. He works primarily in family law and bankruptcy matters, but he also helps out other attorneys by doing legal research, generating draft memoranda of law, producing legal briefs, and writing motions.
"There is not a day that goes by where I do not learn something new. The best advice I can give is that you need to challenge yourself. To put it brusquely, know that you know nothing, and seek to learn from that knowledge. Take the challenging class or challenging professor. Get advice and feedback from those classes and professors, and apply it to your writing. You are paying to be at a wonderful, challenging place for four years; make sure you get something out of it. If you don't, you are doing yourself a disservice."

- David Stamatis
---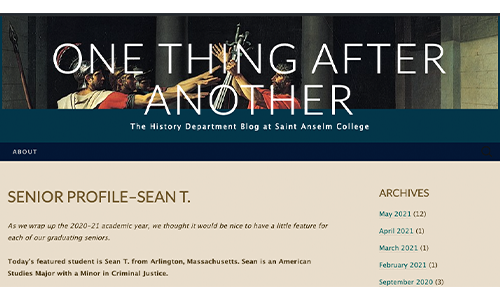 History Blog
One Thing After Another, the History Department's blog, will publish engaging information not only about the History Department at Saint Anselm College but also about the discipline of history in general.