Operant and Behavioral Pharmacology Research Lab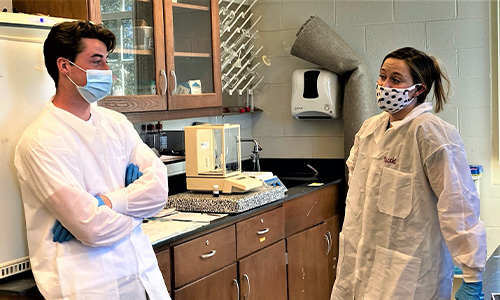 A multipurpose teaching/research lab designed for student and faculty research collaboration in the area of psychobiology, the research conducted here involves basic learning studies in classical (Pavlovian) & operant (Skinnerian) conditioning. These principles are applied to the study of pharmacology and behavior - hence Behavioral Pharmacology, an interdisciplinary field which in part studies experimental models of substance abuse.
Some of the specific studies conducted here involve drug tolerance, drug discrimination, alcohol self-administration, circadian rhythm, complex contextual control of behavior and drugs & behvioral extinction. This last area may be useful for drug rehabilitation treatment since environmental cues are correlated (predict) drug effects. We welcome ideas from students for possible research projects in collaboration with faculty.
NIH INBRE (Dartmouth College) NH Grant ($177,000)

Sex Differences in the Discriminative Stimulus Effects of Nicotine: An evaluation of acquisition, extinction, and recovery.

The grant is fund researched aimed at evaluating sex differences in internal sensitivity to nicotine's stimulus effects. The research is specifically interested in evaluating recovery of behavior under nicotine – a model of relapse behavior. This may have clinical implications because women have higher relapse rates than men to tobacco smoking and vaping, which may be related to menstrual phase. The lab is also to investigate nicotine sensitivity across the estrous cycle.

The $177,000 grant is New Hampshire Idea Network for Biomedical Research Excellence (NH-INBRE) furnished by Dartmouth College by NIH.
Community Resilience & Social Equity Lab (CRSEL)
Housed within the Psychology Department at Saint Anselm College and created by Professor Loretta Brady ('99) Community Resilience & Social Equity Lab is a dynamic research center and consultancy established to translate social equity research into practices that make organizations resilient and that result in equitable community impact. We develop programs and curriculum that support specialty workforce needs, and we produce events and curate resources that support resiliency, inclusion and social equity.
Psi Chi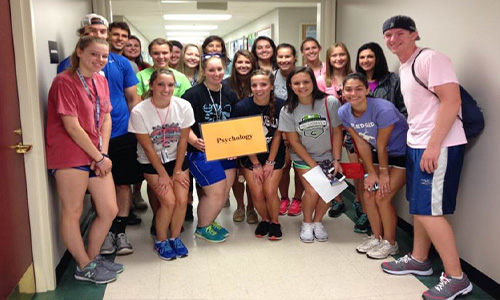 Psi Chi is the National Honor Society in Psychology, founded in 1929 for the purpose of encouraging, stimulating, and maintaining excellence in scholarship and advancing the science of psychology.
Psi Chi functions as a federation of chapters located at more than 700 senior colleges and universities in the USA. A National Council, composed of psychologists who are Psi Chi members and who are elected by the chapters, guides the affairs of the organization and sets policy with the approval of the chapters. The Eastern Region of Psi Chi and the National Psi Chi both have excellent home pages.
Our Psi Chi Chapter provides you with the opportunity to join Psi Chi if you meet certain standards required by Psi Chi and the Association of College Honor Societies (the governing body for college honor societies).
When you are inducted into Psi Chi, you become eligible to wear a Psi Chi honor cord, medal, keypins, charms, lapel pins, tie tacs, cloth emblems for blazers or sweaters, etc. A quarterly Psi Chi Newsletter is sent to each chapter for distribution to the members. Psi Chi members are eligible to present research papers/posters at the national, regional, state, international, and local conventions. Members may participate in undergraduate and graduate research award competitions. The names of new members and activities of chapters are published in the Newsletter and preserved for historical purposes.
If you are interested in joining Psi Chi, please contact the chair of the Psychology Department who will tell you the names of this chapter's President and Faculty Advisor. The chapter will then determine if you are eligible for membership. We look forward to hearing from you.