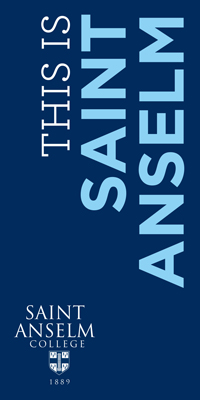 This statement describes who we are and how we talk about ourselves. It enables us to connect to our audiences -- prospective and current students, parents, alumni, the monastic community, faculty and staff, the community -- and allows each of us to unite within one shared identity.
Although these exact words may not appear verbatim in communications materials, the spirit and the ideals behind them form the core of the Saint Anselm College story.
There is an uncommon character that defines each of us. It's something that comes from deep within.
It becomes a part of us when we arrive on campus, it grows and deepens during our time here, and it forms the root of our spirit and the core of our being for the rest of our lives.
It drives us to achieve, enables us to make the hard choices, confirms our faith, and gives us the confidence and perspective it takes to answer the world's most important questions.
As students, faculty, staff, and alumni, we endeavor to grow spiritually and morally as we lead lives of meaning.
Our pursuit of knowledge is fueled by a devotion to the liberal arts and guided by a commitment to the Catholic Benedictine tradition.
And it comes to life in a community of capable, ethical leaders who are prepared to build a better world.
When we're faced with the challenges that push our thinking and develop our character, we know we will rise to every occasion.
Because each of us faces those challenges with a creative mind, a generous spirit, and a foundation in that most uncommon of character traits: Each of us is an Anselmian.