​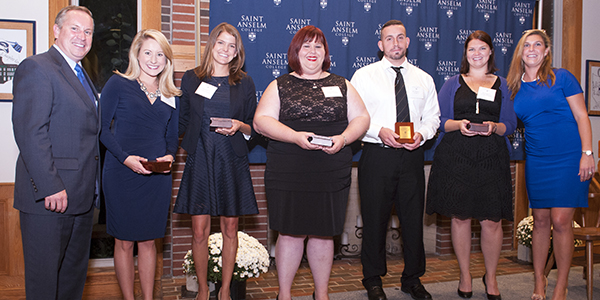 Who says it takes years to make a difference in your community or rise through the corporate ranks? The Saint Anselm College Alumni Association is excited to announce a new recognition program for young alumni who are involved in impressive and meaningful work across a wide range of disciplines. The 10 Under 10 program proudly celebrates and showcases the successes of Saint Anselm's young alumni who are already shaping the future.
We know many Saint Anselm young alumni are doing exceptional work in business and community service, and we hope to capture more and more of these stories. If you know someone that should be recognized in Saint Anselm's 10 Under 10 program, please fill out the nomination form or contact the Office of Alumni Relations at (888) 444-1889. A separate form must be completed for each nomination. All nominations received by July 15, 2018 will be reviewed by the Alumni Council Recognition Committee this fall.
2017 10 Under 10 Recipients
Christopher Ahearn '08
B.A., International Relations, minor Spanish
Ahearn is an outgoing, sincere, and passionate advocate for positive educational change. He is Director of Partnerships at Reach the World, an organization in Chicago, Ill. Reach the World aims to inspire students to become curious and confident global citizens through the application of a digital platform used in the classroom. Ahearn also is Strategy Director of Wright School Boston in Roslindale, Mass., which is centered around design-based thinking.
Melissa DeLury '10
B.A., History
M.Phil., International Peace Studies, Trinity College Dublin, Ireland
DeLury has traveled widely on service projects designed to improve the lives of others. Most recently, she won a Fulbright Research Award to conduct research in the state of Madhya Pradesh in India. The grant allows her to evaluate the Indian Right to Education Act (RTE), and to discover the barriers that prevent children in the country's rural areas from attending school. DeLury previously worked as a program assistant for Molloy College in Farmingdale, N.Y., and the City University of New York's School of Professional Studies.
Courtney Gray Tanner '11
B.A., Latin, Business Administration
J.D./M.S.W., University of New Hampshire School of Law
Tanner is the Executive Director at Hope on Haven Hill in Rochester, N.H., a residential recovery facility for pregnant and parenting women and their babies. She also is the Board President for the Partnership for Drug-Free New Hampshire, and a member of the New Hampshire Insurance Department's Behavioral Health and Addiction Services Advisory Committee.
Aileen Hickey '13
B.A., Psychology
As Research Manager at T1D Exchange, Hickey helps type one diabetes researchers collaborate with patients, physicians, and other researchers. She works to improve outcomes for both patients and their families in clinical studies that advance therapies and improve clinical care. Hickey previously worked as an in-home counselor, where she provided individual and family therapy to adolescents and their families. She has worked directly with a broad spectrum of clinical diagnoses ranging from depression and anxiety to substance abuse, attention deficit, mood and personality disorders.
Alexandra (Puglisi) Horton '11
B.A., Business
Horton is the owner of Café la Reine in Manchester, N.H., which has received accolades from New Hampshire Magazine as an Editor's Pick for Queen City Coffee Shop (2014), and by the Hippo for Best Manchester Coffee Shop (2015). She also serves as the Chairperson of the Manchester Young Professionals Network and a member of the Manchester Transit Authority committee. She has been recognized for her entrepreneurship and community service as Manchester's Young Professional of the Year (2015), the New Hampshire Union Leader's 40 Under 40 (2015), and WZID's 20 Outstanding Women (2015).
Stephanie Kearsley Dahlberg '14
B.A., Psychology
An Outreach Coordinator for Supportive Services for Veteran Families at Harbor Homes in Nashua, N.H., Dahlberg plays an instrumental role in the company's mission to help end veteran homelessness in the Nashua region. Dahlberg works tirelessly with homeless veterans suffering from a variety of mental illnesses, substance use disorders, and health issues. She works to connect them with sustainable housing, medical and mental healthcare, jobs, and other community resources in order to help them live safe, peaceful, and fulfilled lives. Dahlberg also coaches high school track and field and will graduate with her master's in social work from the University of New Hampshire in May 2018.
Michael McGee '14
B.A., Criminal Justice
McGee is a police officer for the Manchester Police Department. During an officer-involved shooting in November 2016, he bravely protected fellow officer Matthew O'Conner from gunfire during an exchange with an armed suspect while administering a tourniquet to O'Conner's wounded leg. For his heroism and valor, McGee received the Life-Saving Medal, which is awarded in recognition of an officer's performance of duty while disregarding their own safety in order to act promptly and offer medical aid. He also received the Meritorious Service Medal for showing extreme professionalism and courage in the pursuit of the armed suspect.
Kathryn O'Loughlin '10
B.A., Sociology
As Assistant Director of Campus Ministry for the College of Mount Saint Vincent in Riverdale, N.Y., O'Loughlin has transformed their program by encouraging countless students to spend their academic breaks serving others. O'Loughlin has traveled to remote places both in the United States and abroad to accompany and aid the poor and marginalized.
Kevin Powers '08
B.A., Business
M.A., Education, University of Notre Dame
M.Ed., Education Leadership, DePaul University
Powers taught elementary and middle school before becoming principal at Saint Margret of Scotland in St. Louis, Mo. Most recently, he was appointed Superintendent of Catholic Community Schools (CCS), a newly-formed consolidation of eight elementary schools and one high school in the metro area of Saint Cloud, Minn. In his new role, Powers is serving more than 1,950 students from preschool to 12th grade. He is eager to assist and nurture his students as they grow physically, mentally, emotionally, and spiritually.
Cpt. Evan Weaver '10
B.A., Politics
A Captain and Logistics Officer in the United States Army, Weaver earned his commission through Army ROTC at the University of New Hampshire while studying politics at Saint Anselm College. Over the past seven years, he has served at the tactical, operational, and strategic levels of Army logistics, including three deployments. Currently, Weaver is serving with the 10th Mountain Division at Fort Drum in Watertown, N.Y.
2016 10 Under 10 Recipients

Sarah Baldiga '05
Co-founder and Executive Director,
Rise Above Foundation

Sarah has a Master's degree in Nonprofit Management from Worcester State College and received her bachelor's degree in Sociology from Saint Anselm College in 2005. She has worked in nonprofit organizations her entire career and is the co-founder and now Executive Director of Rise Above Foundation, a nonprofit organization that provides children in foster care with enriching activities and experiences. She played an integral role in growing the foundation from an idea in 2009 to the respected organization it is today which has served over 2,000 children experiencing foster care.

Samuel Dahlberg '15
Counselor, Riverbend Community Mental Health Center

Sam has been working as a counselor with at risk youth and adolescents with severe behavioral, mental and emotional disorders, helping them learn to manage their behaviors and be able to function normally in society. He started working at Pine Haven Boys Center in Allenstown, NH after he graduated from Saint Anselm College in 2014 with a bachelor's degree in Psychology. He recently advanced to a new full time position at Riverbend Community Mental Health in Concord, NH and continues working part-time at Saint Anselm College in the Behavior Psychology lab. He is currently living in Manchester, NH and engaged to be married next summer at Saint Anselm College to his fiance who he met at Saint Anselm.

Isabela Echeverry '06
Entrepreneurship & Innovation Director,
Cali Chamber of Commerce in Colombia

Isabela earned a bachelor's degree in International Relations from Saint Anselm College in 2006 and has since worked in economic development policies in Latin America through the Ministry of Trade, the Colombian Development Bank and the World Bank, as well as in monitoring and evaluation through Yale's Innovations for Poverty Action. Currently, Isabela leads the city-wide entrepreneurship and innovation strategy for the Cali Chamber of Commerce in Colombia. Along with her team of 40 people, she designs public policies to reduce the gaps for an efficient and dynamic ecosystem including; startup programs, enterprise development/strengthening programs, corporate innovation programs, and early stage financing (seed capital, angel investing, venture capital). In one and a half years they have benefited over 700 companies in terms of transforming their growth & innovation strategies, and aspire to increase that number ten times within the next 3 years. In addition to her work with the Cali Chamber of Commerce, she is an advanced scuba diver, amateur cook and salsa dancer.

Emily (Rowden) Fournier '11
Producer/Co-founder,
Recycled Shakespeare Company

Emily graduated from Saint Anselm College in 2011 with a bachelor's degree in English. She currently runs a not-for-profit Shakespearean theater troupe in central Maine, that she co-founded in 2013, called Recycled Shakespeare Company. The company performs free to the public and works with the community to bring Shakespeare to all audiences. Emily also educates the community on Shakespearean theater through events such as Shakespeare's Birthday Bash where officials and citizens gather to read all 154 of Shakespeare's sonnets. She is proud to be a role model and is often recognized as an ispiration to many of the children in the cast. When she isn't performing, Emily's free time is devoted to improving her community, in 2015 she clocked over 2,000 volunteer hours serving various organizations such as the Daughters of Isabella, Walk a Mile for Hunger, the Fairfield Historical Society, and the Alfond Youth Center Kids' Kitchen to name a few.

Amanda Hapenny '08
Nurse Practitioner

Amanda graduated from Saint Anselm College in 2008 with a bachelor's degree in Psychology. She went on to join Dartmouth Medical School as a psychiatric researcher before entering Vanderbilt University's School of Nursing where she was recognized at graduation as the outstanding student in the psychiatric-mental health nurse practitioner program. After earning her Master's of Science in Nursing, she joined the Mental Health Center of Greater Manchester where she specialized in treating under-served persons with severe and persistent mental illness. She recently relocated to the Pacific Northwest where she will continue working in community mental health.

Beth (Millian) Hawkins '08
VAD Program Coordinator,
Boston Children's Hospital

Beth graduated with a bachelor's degree in Nursing from Saint Anselm College in 2008. She started her nursing career at Boston Children's Hospital (BCH) by completing a nursing fellowship in the Cardiac CICU before becoming a Heart Transplant Coordinator in 2011. Beth is a graduate of the University of Massachusetts Boston Family Nurse Practitioner Program and became the first Ventricular Assist Device (VAD) Program Coordinator in the Heart Center at BCH in 2012. As a nurse practitioner, she provides care for children in advanced heart failure who require mechanical heart pumps to help support their hearts as a bridge to heart transplantation. She is credited with creating BCH's outpatient VAD program allowing patients to be discharged home on mechanical heart pumps with the goal of improving patients' quality of life. Beth has presented her experience developing a VAD Program and her research in the field of pediatric mechanical circulatory support both nationally and internationally. She currently lives in Reading, MA with her husband and son.

Amanda (McGowan) Lacasse '07
Corporate Art Consultant,
McGowan Fine Art

Amanda majored in Sociology and had a minor in Fine Arts and Spanish when she graduated from Saint Anselm College in 2007. She is currently a Corporate Art Consultant with McGowan Fine Art (no relation) in Concord, NH. She interned here during her senior year after becoming familiar with the gallery through her work at the Chapel Art Center. Amanda would say that she has the best job in the world in that she helps clients select the perfect artwork for their space and brand. Because no two clients are alike, finding artwork continues to be a wonderful challenge for each project. Her clients range from hospitals and retirement communities to law firms and banks, and she feels fortunate to work with interesting clients, incredible artists and lovely spaces throughout the New England region.

Jared M. Novinski '08
Dimeo Construction Company

Dimeo Construction Company is a high-end commercial builder with offices in CT, RI, and MA. Jared has spent the majority of his career to date managing various projects at Yale University, some of which include renovations of the Historic Calhoun College, the Historic Yale University Art Gallery, and Yale 43 Hillhouse Avenue. Following the Hillhouse renovation, Jared was selected to help manage another sizable project, Yale Residential Colleges, where he works with renowned architects, master builders, and Yale leadership. In addition, Jared volunteers on a local building committee where he and other like-minded residents ensure the community's historical charm is maintained as new projects draw locals to the town center. Jared earned an MBA in Finance from Fairfield University in 2015 and earned his bachelor's degree in Psychology from Saint Anselm College in 2008. He recently became Lean Certified and looks forward to continuing with Six Sigma preparation. Jared currently lives in Connecticut, where he and his wife Leslie eagerly await the birth of their first child.

Erica Pickard '06
Surgical Trauma ICU Nurse,
San Antonio Military Medical Center

Erica graduated from Saint Anselm College in 2006 with a degree in Nursing. After a six year commitment and deployment to Afghanistan as a critical care nurse, she finished her career on honorable discharge as a Captain in the United States Air Force. Erica is currently working as a surgical trauma ICU nurse at San Antonio Military Medical Center as a contractor for the army. SAMMC is a level one trauma center that serves the community as well as active duty, reservists, veterans and dependents. It is the biggest and busiest Medical Treatment Facility in the military. She lives in Texas with her husband and son, and hopes to move back to New England when her husband finishes his Air Force commitment.

Kate (Giaquinto) Spiner '10
Director of Communications,
New Hampshire State Senate

Kate graduated from Saint Anselm College in 2010 after studying English and Communications. Since, she has held communications positions at the New Hampshire Institute of Politics and Political Library and Montagne Communications. She is currently the Director of Communications for the 24-member New Hampshire State Senate where she is charged with developing messaging and statements on behalf of Senate members focusing on critical policy issues facing the State of New Hampshire, as well as managing media relations related to the legislative process. Kate is also a member of the Manchester Young Professional Network's Board and lives in New Hampshire with her husband, Trent.