A Moment of Time: Sculpture by Nick Hollibaugh
On View March 15-May 4, 2019
Opening Reception on Thursday, March 14 from 6 - 8 p.m.
---
The Chapel Art Center is delighted to present A Moment of Time: Sculpture by Nick Hollibaugh, featuring a body of work by Massachusetts-based artist Nick Hollibaugh. Working in wood and paint, Hollibaugh creates forms and assemblages that engage with our understanding of memory, landscape, and structure. Meticulous in their execution and poetic in their simplicity, these built arrangements blur the line between painting and sculpture.
Born and raised in Indiana, many Hollibaugh's sculptural works evoke the farm structures and barns of his youth. The artist's largest works are paradoxically both inviting and imposing, recalling expansive open spaces and enclosed domestic interiors in equal measure. Horizontal bands of wood painted in subtly shifting colors recall a sky viewed across flat farmland, while the familiar shape of a pitched roof, paired with Hollibaugh's precise craftsmanship, reference the simple lines of Shaker barns and furniture.
In smaller, more intimate works, pieces of found wood are commingled with bits of mirror and nest-like assemblages of narrow sticks. Drawing from his experience as a furniture designer, Hollibaugh exerts precise control over shadow, color, and dimension, arranging each element in accordance with a mysterious, dreamlike logic.
Nick Hollibaugh earned a BFA from the Herron School of Art at Indiana University and an MFA from the Rhode Island School of Design. He lives in Massachusetts with his wife and two daughters. Hollibaugh is represented by Cade Tompkins Projects of Providence, Rhode Island.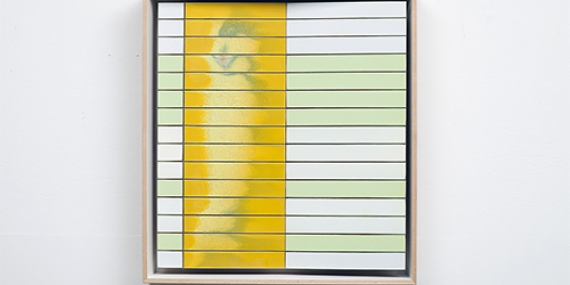 Nick Hollibaugh, Finding Lines, 2016. Acrylic on ash wood. 16 x 15 x 2 inches. Image courtesy Cade Tompkins Projects.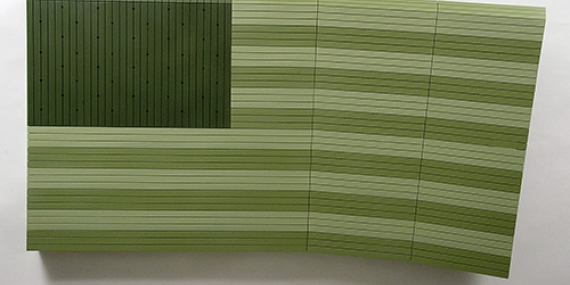 Nick Hollibaugh, Field, 2010. Acrylic on ash wood. 40 x 72 x 12 inches. Image courtesy Cade Tompkins Projects.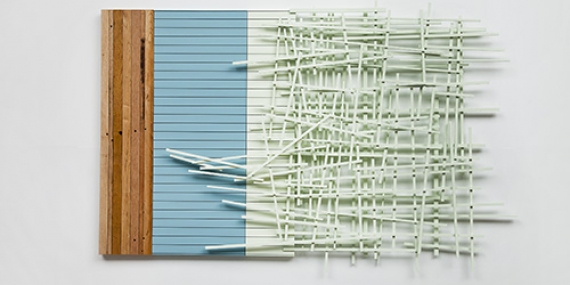 Nick Hollibaugh, Reaching Daisy, 2016. Acrylic on ash wood. 32 x 42 x 4 inches. Image courtesy Cade Tompkins Projects.