DUE TO COVID-19 RESTRICTIONS, THE CHAPEL ART CENTER IS PRESENTLY OPEN ONLY TO THE SAINT ANSELM COLLEGE COMMUNITY. PLEASE EXPLORE OUR VIRTUAL OPTIONS LIKE ARTSURROUND AND STAY TUNED FOR UPCOMING VIRTUAL COLLABORATIONS WITH OTHER CAMPUS PARTNERS.
Works on Paper, Including Recent Acquisitions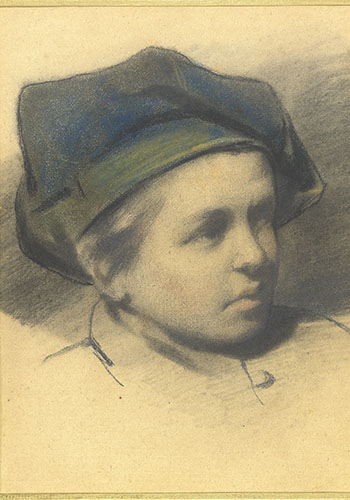 The Chapel Art Center is very pleased to present Works on Paper, Including Recent Acquisitions, Selections from the Permanent Collection for its spring exhibition. 
It is not unusual for a gallery or museum to host an exhibition especially devoted to works on paper. In the case of the Chapel Art Center, with the vast majority of the permanent collection consisting of works on paper, it is difficult to justly represent the variety of works without devoting an exhibition to them. Still, it seems works on paper enjoy a unique distinction in almost any collection.   
The use of paper has served artists in both grand and basic ways for centuries, for a wide variety of artistic purposes. In simple sketches or studies, works on paper offer a privileged insight into the artist's most basic and profound impulses. In carefully developed observations, they demonstrate clearly the artist's remarkable, meticulous, and sophisticated drawing skills. At times, works on paper offer the grandness and power of great designs in even the smallest of studies, holding storied future narratives within the confines of one, isolated, ragged-edged sheet.     
Perhaps it is the fragile nature of paper, the fugitive character of pigments, or the careful limitation of exposure to atmospheric conditions which make works on paper seem inherently precious. All in all, their very accessible ease, inherent playfulness, experimentation, and spontaneity allow for a constancy of fresh interest and surprise.  
Whatever the angle, works on paper so often prove to be invariably delightful. We hope you will enjoy this selection of works, intentionally interspersed so as to encourage contrast, comparison, and new insights to be offered! This approach can only serve to build and expand our appreciation.