The Chapel Art Center is pleased to present a pair of exhibitions drawn from our Permanent Collection, on view October 12, 2018 – February 16, 2019.
Gallery Hours during the Winter Recess:
The Chapel Art Center will remain open with an abbreviated schedule during the Saint Anselm College Winter Recess. Between December 11, 2018 and January 15, 2019, the gallery will be open Tuesday through Friday from 10 a.m. to 4 p.m. During this time the gallery will not be open for Saturday or Thursday evening hours.
Please note, the gallery will close for the Christmas Holiday beginning Friday, December 21. We will reopen on Tuesday, January 8.
Regular gallery hours, including Saturdays and Thursday evenings, will resume on January 15, 2019.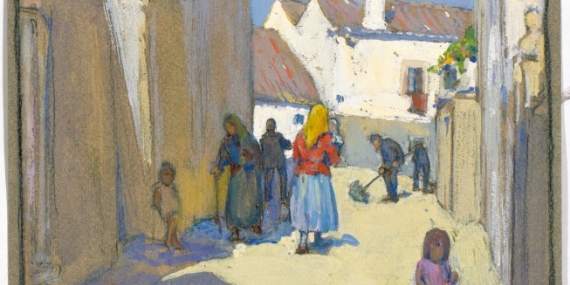 Preparing a Place: Women Modernists from the Chapel Art Center Permanent Collection
In the 19th and 20th centuries, female artists established a long overdue presence on the American art scene, enrolling in art schools, teaching, and exhibiting in landmark exhibitions of modernist art. In celebration of the legacy of these women modernists, the Chapel Art Center is pleased to present a selection of artworks by ground-breaking female artists from our Permanent Collection.
Featuring paintings, works on paper, and sculpture dating from the early 20th century to the present day, Preparing a Place highlights the work of women who pushed the field forward in their respective media, achieving professional success and recognition in the process.
Image: Elizabeth Withington, Street Scene, early 20th century. Gouache on dark blue paper. Permanent Collection, Chapel Art Center.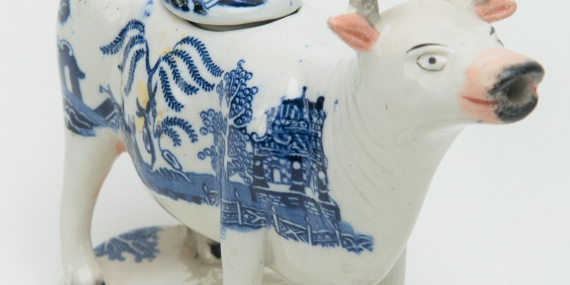 Farm to Table: The Lucille Davison Collection of Ceramic Cow Creamers
An eccentric piece of tableware first popularized in Britain in the 18th century, the cow creamer is an object of playfulness married to functionality. Its whimsical form points to the intersection between Georgian romanticizing of a pastoral, agrarian life and the rising popularity of tea and coffee among the British upper and middle classes—and the various accessories necessary to enjoy it with fashionable company.
The group of cow creamers on view at the Chapel Art Center was generously donated by the late Lucille Davison, whose father assembled the collection over a period of several decades. It reflects over a century's worth of styles and regional peculiarities and includes examples from several notable centers of English ceramic production, including Staffordshire, Sunderland, Derbyshire, and Swansea, as well as American examples from the Norton and Fenton Potteries in Bennington, Vermont.
Image: Cow Creamer, Staffordshire, c. 1790. Earthenware with blue transfer decoration.