Visitors Please Note: The Chapel Art Center will be closed Saturday March 3 and Saturday March 10 in observance of the Saint Anselm College Mid-Semester Recess.
Now on view:
Georges Rouault: LE CIRQUE and Barbara Morgan: DANCING ATOMS
February 16 - May 5, 2018
The Chapel Art Center is pleased to present a pair of exhibitions exploring the evocative work of two artists working on opposite sides of the Atlantic in the early decades of the 20th century.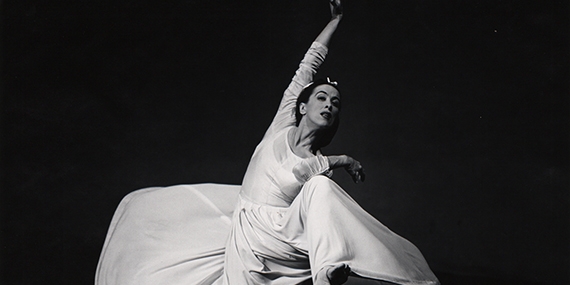 Barbara Morgan: DANCING ATOMS
American photographer Barbara Morgan (1900-1992) is best-known for her evocative photographs of modern dancers, in particular her long and fruitful partnership with dance pioneer Martha Graham. Morgan's photographs capture graceful and athletic figures in moments of heightened energy and motion. Her exploration of movement and kinetic energy on film extended to early experiments with photomontage and light drawing. Dancing Atoms presents a survey of Morgan's New York years, from the 1930s to the 1960s.
(Image: Barbara Morgan, Martha Graham: Letter to the World (Swirl), c.1940. Gelatin silver print. Courtesy of the Syracuse University Art Collection.)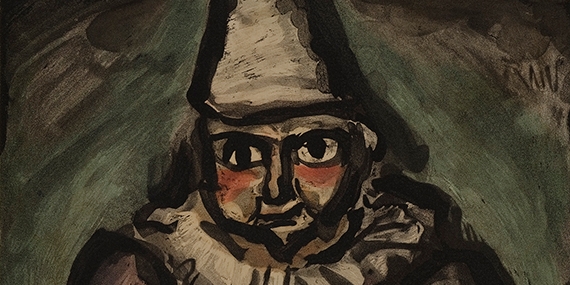 Georges Rouault: LE CIRQUE
The circus and its performers are a recurring theme in the long career of French Expressionist Georges Rouault. Under his hand, depictions of acrobats, clowns, and dancer took on new shades of political and emotional resonance, with the figures serving as stand-ins for the downtrodden and humble lower classes. The color aquatints that make up Rouault's print series Le Cirque were completed for a never-finished album folio project in 1930. Reunited in the Chapel Art Center gallery as a series, Le Cirque offers a rare opportunity to trace the evolution of Rouault's style at a critical moment in his career.
(Image: Georges Rouault, Le vieux clown (The Old Clown), 1930. Color aquatint on laid paper. Hood Museum of Art, Dartmouth College. Gift of Susan E. Hardy, Nancy R. Wilsker, Sarah A. Stahl, and John S. Stahl in memory of their parents Barbara J. and David G. Stahl, Class of 1947.)