Catholics in the Public Square
Rooted in our Catholic and Benedictine identity, the Office of Campus Ministry is committed to providing resources that will help foster an environment where people of all backgrounds, cultures, and identities can flourish and feel welcomed.
We are committed to this because of our faith. In President Favazza's message on racial equality on September 30, 2020, he opened with, "As an institution, we are guided by our Catholic and Benedictine mission and identity in which all human life is valued and all are worthy of the same dignity and respect."
The very foundation of Catholic Social Teaching is the protection of the life and the dignity of the human person. We are called to be in solidarity with those who suffer and to participate in our communities to make them more reflective of the Kingdom of God.  We recognize that 'any kind of social or cultural discrimination in basic personal rights on the grounds of sex, race, color, social conditions, language or religion, must be curbed and eradicated as incompatible with God's design.' 1
Therefore, may the resources found here guide all of us in our understanding of the dignity and sacredness of all life and drive our dedication to creating the Kingdom of God in our own community both through individual education and our own civic engagement.
1 Gaudium et Spes ("The Church in the Modern World"), Vatican II, 1965, #29.
Life Series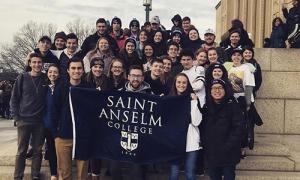 As Catholics we proclaim that human life is a precious gift from God; that each person who receives this gift has dignity and worth, and that society, through its laws and social institutions, must protect and nurture human life at every stage of its existence.
Campus Ministry provides a wide variety of programs and groups that help realize the sanctity of all life.