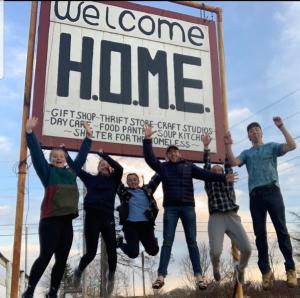 Campus Ministry offers a multitude of ways for our community to put their faith into action. From Service and Immersion opportunities through our Anselmian B.R.E.A.K. program, to our 130 mile Road for Hope, as well as campus wide initiatives such as our Thanksgiving Basket drive and Christmas Giving Tree.
We also have a series of opportunities to continue faith in action after graduation, through our Post Grad Service and discernment series. There are so many ways to make a difference in the world using your gifts and talents!
We also encourage living out faith in action through the embodiment of the 7 principles of Catholic Social Teaching, and providing resources on advocacy for those in need, and supporting fair trade practices.
If you would like to get more involved with our Faith in Action programs, please see the drop down menu to the left for more detailed program information, or email campusministry@anselm.edu .
Local Parish Outreach
Parish Outreach is working on virtual retreat offerings in light of Covid-19 precautions. If you are interested in learning more, please contact Fr. Francis at fmccarty@anselm.edu
Day retreats for middle and high school students preparing to receive the Sacrament of Confirmation will be offered on campus on select Saturdays from October to March. The day will include faith witness talks and activities facilitated by a trained team of Saint Anselm students, as well as lunch and closing Mass. These retreats are designed to build community and encourage deeper reflection. Area schools and parishes are invited to contact Fr. Francis at fmccarty@anselm.edu or (603) 641-7442 for more information or to register. Space is limited. 
Volunteer to teach religious education (CCD) at a local parish. Times and grade levels vary. For more information, or if you are a religions education coordinator seeking teachers, please contact Fr. Francis at fmccarty@anselm.edu or (603) 641-7442.
Shop with a Conscience : Fair Trade and Local
Although we cannot host our 11th annual Fair Trade Fair in person this year, we wanted to remind you that shopping ethically can be just as easy as shopping on Amazon. This year, it is especially important to continue to give support to small businesses in our local communities as well as shops that leave an impact on our global communities. We hope that with some guidance found here, you can continue to shop fair trade and locally or being to make this a part of your everyday consumption both in person and online.
Fair Trade is a system designed so that producers in developing countries receive a fair price for goods sold in developed countries. This is a social movement and by participating as a consumer in this movement, you help advance social and economic justice for people who live in developing countries.
 
Benefits of Fair Trade
For the farmers and artisans…
Contribute to improving working conditions
Aiding local communities
Support human rights
Sustainability practices
For the consumers…
 
You can know that the products originate from a place where workers don't suffer from exploitation
You know that farmers used sustainable farming practices
You can support women and farmers who want a better future for their families
Shopping locally is the act of consumers purchasing produce, clothing, and day to day items from a local business instead of large retailers.
 
Benefits of Shopping Locally
More of your money will be kept in your local economy
You embrace what makes your community unique
You create local jobs
You help the environment
You nurture community
Conserve your tax dollar
You create more choice
 You took advantage of their expertise
You invested in entrepreneurship
You made your community a destination
Global Fair Trade Shops
Serrv empowers small-scale artisans and farmers to earn a fair living from their work, breaking the cycle of poverty and building stronger communities worldwide through Catholic Relief Services.
A non-profit organization that seeks to empower women in the Acholi Quarter of Uganda by providing education to both the women and their children and assisting the women to establish business opportunities to promote economic stability and sustainability. Karen has come to our Fair Trade fair for the last 6 years!
Domestic Shops
Support local bookstores who ship right to your door!
Items made by artisans in the Granite State, based in Portsmouth NH
A local café, gift, and flower shop serving Goffstown, New Hampshire, and all of New England - also ships their items nationwide!