New Hampshire Officials Identify Affordable Housing Solutions
June 19, 2018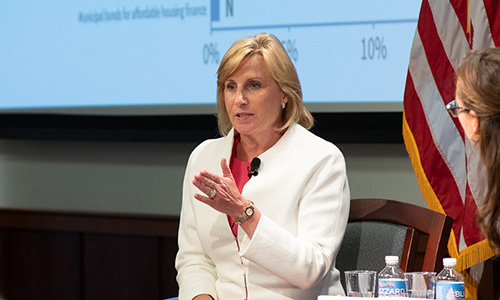 More than 150 developers, business leaders, property managers, and service providers from New Hampshire gathered to discuss affordable housing solutions at a forum hosted by the Center for Ethics in Business and Governance (CEBG) on June 18, in collaboration with Housing Action NH.
Designed to address a pressing ethical issue in the community through dialogue and collaboration, the inaugural CEBG Politics, Business, and Justice Roundtable united both the private and public housing sectors for a conversation about housing affordability and availability. The crowd received opening remarks from Manchester Mayor Joyce Craig, Senator Maggie Hassan, and Congresswoman Ann Kuster.
"Safe, affordable housing is critical to our economy and high quality of life," said Senator Hassan. "When you work hard to get ahead, you should have the ability to stay ahead."
Three fair housing advocates shared testimonies leading up to the discussion period, including Dick Anagnost, who has been developing affordable units in New Hampshire since 1988. Anagnost said that if he built his own community, with economic prosperity as his goal, he would start with housing.
"I look at it this way. Housing brings people. People bring the workforce. The workforce brings business. Business brings economic development and prosperity," Anagnost explained. "For years in New Hampshire we've been doing it the opposite."
Joe Murray, vice president of Public Affairs at Fidelity Investments, was concerned that many student interns can't afford to stay in New Hampshire after they graduate college. "We're going to lose young workers if we don't make housing more available and affordable," said Murray. 
Two hours of enthusiastic policy conversation commenced, structured using the CEBG "Call to Counsel" model, which is inspired by Benedictine tradition. It focuses on listening, learning, and developing innovative solutions through a facilitator's leadership as a model of civil discourse. 
Attendees participated in a live poll based on the possible solutions identified during their small group discussions. Collectively, over 30% of participants agreed zoning laws and density regulations needed to change to ensure affordable housing. Another 15% identified consistent statewide funding as an action that should be taken to address the issue.
U.S. Department of Housing and Urban Development (HUD) Deputy Secretary, Pam Patenaude '83, saw a statewide ad campaign as one of the most valuable proposed solutions.
"We need to educate, and re-educate, and tell them again. People just don't connect," Patenaude shared. "If you have a roof over your head, why worry about the people that don't have a roof over their head? But it is absolutely fundamental, and a platform for everything else."
Patenaude has noticed that other states are facing the same housing challenges as New Hampshire. "People are acknowledging this is a problem, and we need to address it," she stated. "We need to make sure that the next generation has a place to live." 
CEBG Executive Director Max Latona says a task force will be formed to examine the recommendations in detail and present them to the appropriate legislators and organizations. 
"Each discussion table had a diverse cross-section of people with enormous amounts of experience on the issue of housing. Many of our attendees remarked that they have never had the opportunity to discuss the issue with each other in this way," Latona reflected. "But the success of the event will ultimately depend on how well we follow through on the priority recommendations of our participants."