Innovative Solutions for the Crisis in New Hampshire
One of the most serious obstacles to the development of affordable homes across the state is the so-called NIMBY ("Not in My Backyard") mentality among local voters whenever building such housing is proposed. The Center for Ethics is addressing the concerns, fears, and misperceptions about housing by launching a three-year educational initiative called "The Housing We Need."
 
Housing We Need Roundtable Forums
The Center has convened two roundtable forums with diverse stakeholders and advocates from all over the state. The first, in June 2018, discussed problems of housing affordability in New Hampshire and developed recommendations for solutions and action. The group was divided into 16 tables, each of which held a moderated discussion on these issues and developed recommendations. Over the following months, a task force led by Center staff compiled and refined these recommendations. Three of those recommendations resulted in state-level legislation that was enacted into law: more funding for the Affordable Housing Fund, a statewide housing appeals board, and a legislative study commission on barriers to density. Many of the others have become part of Governor Chris Sununu's state housing action plan.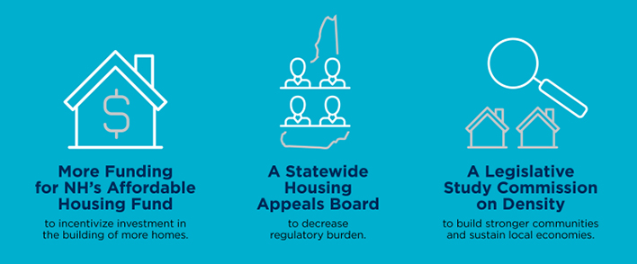 The second roundtable forum took place on Wednesday, December 11, 2019, and featured addresses by the governor and Economic Development Commissioner Taylor Caswell, the Home Matters Awards presented by Housing Action New Hampshire, and a roundtable discussion on how to overcome local barriers to building more housing, with an eye to developing a new set of recommendations on this front.
 
Updated Recommendations
What can we do in our local communities to influence local decision-making and increase the supply of housing?
| Recommendation | % Support |
| --- | --- |
| 1. Create pro-housing advocacy groups in each community to attend meetings, elect pro-housing officials, educate voters, etc. | 21% |
| 2. Educate with data to dispel myths against affordable housing (who needs housing & cost of kids) & create shareable materials | 21% |
| 3. Create state-level fiscal incentives to reduce costs and improve efficiency of approval process for variety of housing types | 21% |
| 4. Provide toolkit for analysis and implementation of regulatory changes to local communities and boards, such as increasing density allowances | 14% |
| 5. Use local chambers of commerce and business groups to educate & advocate for housing | 8% |
| 6. Convene conversations among community leaders about housing issues and successes at the local level | 6% |
| 7. Educate both professional planners and local officials using NH Planners Association and regional planning commissions | 4% |
| 8 (tie). Create & provide resources for property owners to help them develop housing (how to defend application, etc.) | 3% |
| 8 (tie). Create vision & value statements in support of adequate housing for the full life cycle to empower advocates in communities | 3% |

Local Community Discussions
The Center will be sponsoring local discussions in communities around New Hampshire. The goal of these forums is to conceptualize what forms of new affordable housing would be acceptable and desirable in particular communities and neighborhoods.
 
Local Administrator Events
The Center is organizing forums for local building, fire, planning, and zoning officials in order to educate them about the scale of the housing problem in New Hampshire and how they can be a part of the solution. The building and fire code officials' event has been postponed until further notice.
 
Research Workshops and Major Public Events
On August 11 and 12, 2020, the Center will host a scholarly research workshop on the topic, "Land-Use Regulation and Housing Affordability." The goal of the workshop is to create a better understanding of the political economy of land-use regulation and what that means for reformers, particularly in New Hampshire. Alongside the conference will be a major public event (now webinar) with globally recognized scholars in the field on Monday August 10 on the topic, "Building the Cities of the Future: More Markets or More Regulation?"
 
Resources