Innovative Solutions for the Crisis in New Hampshire
One of the most serious obstacles to the development of affordable homes across the state is the so-called NIMBY ("Not in My Backyard") mentality among local voters whenever building such housing is proposed. The Center for Ethics is addressing the concerns, fears, and misperceptions about housing by launching a three-year educational initiative called "The Housing We Need."
 
Housing We Need Roundtable Forums
The Center has convened two roundtable forums with diverse stakeholders and advocates from all over the state. The first, in June 2018, discussed problems of housing affordability in New Hampshire and developed recommendations for solutions and action. The group was divided into 16 tables, each of which held a moderated discussion on these issues and developed recommendations. Over the following months, a task force led by Center staff compiled and refined these recommendations. Three of those recommendations resulted in state-level legislation that was enacted into law: more funding for the Affordable Housing Fund, a statewide housing appeals board, and a legislative study commission on barriers to density. Many of the others have become part of Governor Chris Sununu's state housing action plan.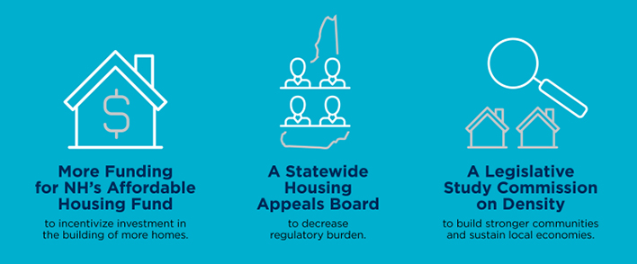 The second roundtable forum took place on Wednesday, December 11, 2019, and featured addresses by the governor and Economic Development Commissioner Taylor Caswell, the Home Matters Awards presented by Housing Action New Hampshire, and a roundtable discussion on how to overcome local barriers to building more housing, with an eye to developing a new set of recommendations on this front.
The third forum will take place on December 16, 2020.
 
Updated Recommendations
What can we do in our local communities to influence local decision-making and increase the supply of housing?
The Center for Ethics has collated the recommendations that emerged from these discussions under ten headings, and the Center's Housing We Need Task Force has vetted these recommendations for coherence and accuracy.
While some of these recommendations speak directly to policy, many of them are initiatives that civil
society advocates can undertake immediately. We commend them to the notice of everyone in New
Hampshire trying to be a part of the housing solution.
Educate communities: Use visual examples, personal narratives, models, and data to dispel myths about affordable housing and developers, and to convey to residents the need for, and benefits of, a diversity of housing
for their community.
Educate community decision-makers: Provide local elected officials and land use board members with education and training to learn about the benefits of diverse housing and the costs of regulation.
Launch promotional campaign: Launch an effective multi-media promotional campaign at the state and local level to influence and change attitudes about affordable housing.
Facilitate roundtable forums: Using charrettes, community forums, or dialogue circles, provide opportunities for residents, business owners, and community leaders to collaborate on housing solutions for their community.
Expand housing advocacy: Engage, train, support, and mobilize community members, including local businesses and employers, to vocalize support for affordable housing at the state and local level, to advocate for new housing and regulatory change at meetings and hearings, and to serve on planning, zoning, and other land use boards.
Regionalize processes and infrastructure: Encourage consistency in the permitting processes and coordination between municipalities to share infrastructure to support housing (e.g. water, sewer/septic, and public transportation).
Revise ordinances and regulations: Revise land use ordinances and regulations to enable communities to achieve their master plan housing objectives, and to facilitate the construction of the housing we need.
Create bonding and funding mechanisms: Incentivize affordable housing by providing municipal bonding or housing trust funds to support new housing within communities.
Adopt design guidelines: Assist communities in developing guidelines and expectations for more dense residential housing options, to be communicated to developers and community members so as to ensure any new development fits with the character of the neighborhood.
Solve the septic problem: Explore new technology, research, and new legislative policies on septic systems that might safely support more dense residential housing options.
These priority recommendations are available as a formatted PDF.
 
Research Workshops and Major Public Events
On August 11 and 12, 2020, the Center hosted a scholarly research workshop on the topic, "Land-Use Regulation and Housing Affordability." The goal of the workshop was to create a better understanding of the political economy of land-use regulation and what that means for reformers, particularly in New Hampshire. Links to revised working papers presented at the conference will be made available here.
Alongside the conference was a major public event (webinar) with globally recognized scholars in the field on Monday August 10, 2020 on the topic, "Building the Cities of the Future: More Markets or More Regulation?" The video of that event is available here.
On September 22, 2020, the Center hosted bestselling author and policy expert Richard Rothstein to talk about "The Color of Law: How Our Government Segregated America." A local panel of racial equity advocates discussed his research, and the Center sponsored four reading groups of Rothstein's book after the public event.
Polls, Surveys, and Research
The Center conducts the annual New Hampshire Housing Policy Poll (2020 results here). This statewide poll of New Hampshire registered voters has been covered in the Union Leader.
Center staff also conduct research on housing policy issues. A survey experimental study by Mike Matheis and Jason Sorens has been published as a working paper.
On January 26, 2021, the Center published an issue brief on lessons from the Center's housing poll and surveys.
Local Community Discussions
The Center will be sponsoring local discussions in communities around New Hampshire. The goal of these forums is to conceptualize what forms of new affordable housing would be acceptable and desirable in particular communities and neighborhoods.
 
Local Administrator Events
The Center is organizing forums for local building, fire, planning, and zoning officials in order to educate them about the scale of the housing problem in New Hampshire and how they can be a part of the solution. The building and fire code officials' event has been postponed until further notice.
 
Resources