Staples, Stonyfield, and Sustainability
December 1, 2017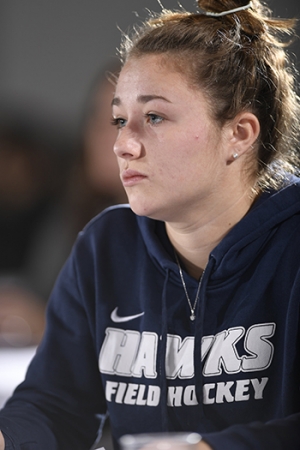 Executives of two giant New England corporations explained their companies' approach to sustainability yesterday at a Saint Anselm College panel produced by the Center for Ethics in Business and Governance (CEBG). Mark Buckley '78, Vice President for Sustainability of Staples, Inc. of Framingham, Mass., joined Lisa Drake, Director of Sustainability Innovation at Stonyfield Organic Yogurt of Londonderry, N.H. on November 30th at the New Hampshire Institute of Politics on the Saint Anselm campus. The panel was moderated by Dr. Dina Frutos-Bencze, assistant professor of economics and business.
In his introduction, Kyle Hubbard, CEBG Program Director, stated, "Profit is essential; no margin, no mission. But corporate responsibility goes beyond simply making a profit." Hubbard then directed the panel to begin the discussion on negotiating the tension between values and mission. Buckley and Drake outlined the moral and financial benefits of sustainability, the process of creating and managing systems that can remain productive indefinitely and provide ongoing benefits beyond the initial goals of revenue and profit.
"Sustainability is a journey, not a destination," said Buckley. He noted that sustainability can be developed across a company, in product and materials sourcing, communications, accounting and more. "Were things acquired ethically? Is sourcing transparent?" Ultimately, he said, "Transparency changes a company's overall dynamic" and fosters improved practices elsewhere, even with market competition. "It's great when other companies embrace sustainability. It raises consciousness."
Buckley described Staples' initiatives in sustainability as the result of an environmental protest. Seventeen years ago (the company is now 31 years old), a group objected to Staples' practices for procuring paper. "This created an opportunity to look beyond our four walls and talk about our environmental impact."
A former biology major at Saint Anselm with a personal passion for the environment, Buckley said the protest and Staples' response created "a transformational moment" for himself and the company. "Our leadership was ethical but conservative in business. We recognized that sustainability helps Staples builds trust with customers."
In turn, Drake explained Stonyfield's origin, growing out of a non-profit organic farm school which produced yogurt for revenue. The farm school was founded 34 years ago, and today, Stonyfield is the largest organic yogurt company in the United States. However, Drake maintains that the farm/business was always about making more than a profit. Stonyfield's values are summed up by what Drake calls "The Four Healthies'–healthy food, people, planet and business. It's quite a journey to live through growth and keep your mission."
However, she said Stonyfield leverages its growth to create resources and advance the company mission. "We're very conscious of our role in getting messages out to the world and doing good in the world. It's so engrained that it comes naturally–but it's not always easy. You can't just have a mission statement on a wall."
Both Buckley and Drake outlined specific examples of the mutual benefits of sustainable business.
"Forests are a huge component of our supply chain," said Buckley. "We buy from a mill in Argentina which uses fiber left over from sugar cane processing, and historically, the cane husks would be waste after sugar is removed, but we worked with the growers for more sustainable practices. Now, instead of burning the waste in an open field, the husks provide fiber for paper and gives farmers an additional revenue stream."
Drake echoed the value in working with suppliers: "The supply chain is a big imperative for us." She illustrated the positive effects through Stonyfield's work with small and family farmers: "They achieved higher yields and improved quality of soil. Birds came back. This all helps their small businesses become more profitable and sustainable."
The panel was extended beyond its allotted time by numerous questions from audience members, including requests for details about employee values, monitoring of suppliers, and the willingness of customers to purchase goods and services at a premium for their sustainable value. Buckley and Drake's appearance on the panel were part of the Ethics in Governance Speaker Series at Saint Anselm College.