The Center for Ethics in Society Hosts Regional Ethics Bowl
By Kathleen McCarthy '22 | February 11, 2022
On Saturday, February 5th, 2022, the Saint Anselm College Center for Ethics in Society hosted the Goodchild Regional High School Ethics Bowl, an official stage in the National High School Ethics Bowl competition. Ten participating teams represented eight different schools: White Mountain Regional High School (Whitefield, N.H.), Saint John's High School (Shrewsbury, Mass.), Manchester Central High School, Franklin Academy (Malone, N.Y.), Goffstown High School, Phillips Exeter Academy (Exeter, N.H.), Manchester West High School, and Nashua South High School. Members of the Saint Anselm faculty as well as other distinguished members of the New Hampshire community served as judges and moderators for the event.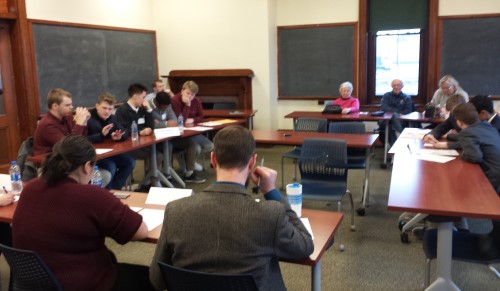 Students were given a few minutes to design an argument for a solution to a question about an ethical "case" or dilemma, selected from a preassigned list. The team would then articulate their stance on a particular topic and get scored on their response. The judges' scores reflected the team's clarity, relevancy, and logic, as well as their ability to speak to the reasoning of those who would likely disagree with their conclusion. The opposing team would get the opportunity to comment constructively on the presentation and the presenting team would respond once more. Judges would then ask the presenting team follow-up questions to further explore the ethical considerations pertaining to the case. The roles of the teams would then reverse for a new case and question, and the winner of the round would be determined by points and judges' votes.
 
Teams discussed cases covering a range of issues such as data privacy and the ethics of psychological research on social media users, predictive policing in communities to prevent crime, and the obligation to tell the truth in difficult circumstances. The students worked out some incredibly meaningful conversations. Many individual participants articulated complex solutions to multifaceted ethical questions. Several judges and spectators expressed how impressed they were with the students' ability to dialogue in such an insightful and respectful fashion. 
 
Three rounds took place before the semifinal and final rounds. Phillips Exeter won the final round against Franklin Academy, and they will advance to a Super-Regional round against the winner of the Massachusetts Ethics Bowl. 
 
Thank you to all the teams who participated and thank you to everyone who volunteered their time to be part of this excellent and inspiring event.