Globalization R.I.P
December 3, 2022 |
Dr. Daniel Drezner, Professor of International Politics at Tufts University, will offer the plenary address for the Center's international conference: "The Ethics of Business, Trade, and Global Governance." Lunch is included in the registration fee. Please join us for this engaging presentation at the beautiful Wentworth by the Sea hotel in New Castle, New Hampshire.
Cosponsored by the Center for Ethics in Society, the University of Vienna - Department of Finance, and the University of St. Andrews' Centre for Responsible Banking and Finance.
Meet the Speaker 
Daniel W. Drezner is Professor of International Politics at Tufts University, a nonresident senior fellow at the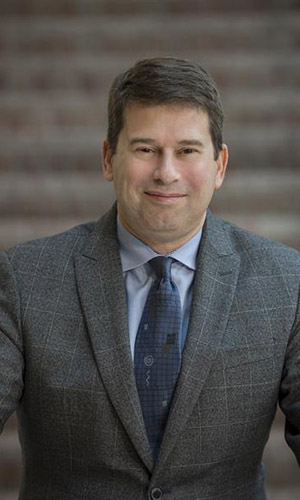 Chicago Council on Global Affairs, and the co-director of Fletcher's Russia and Eurasia Program. Prior to joining The Fletcher School of Law and Diplomacy, he taught at the University of Chicago and the University of Colorado at Boulder. He has previously held positions with Civic Education Project, the RAND Corporation and the U.S. Department of the Treasury, and received fellowships from the German Marshall Fund of the United States, Council on Foreign Relations, and Harvard University. Drezner has written seven books, including All Politics is Global and Theories of International Politics and Zombies, and edited three others, including The Uses and Abuses of Weaponized Interdependence. He has published articles in numerous scholarly journals as well as in the New York Times, Wall Street Journal, Politico, and Foreign Affairs, and has been a regular contributor to Foreign Policy and the Washington Post. He received his B.A. in political economy from Williams College and an M.A. in economics and PhD in political science from Stanford University.
Date/Time
December 3, 2022 from 12:30 PM - 2:00 PM
Location Information
Wentworth by the Sea (588 Wentworth Rd, New Castle, NH 03854)
Add Event to Calendar 2022-12-03 17:30:00 2022-12-03 17:30:00 Globalization R.I.P Dr. Daniel Drezner, Professor of International Politics at Tufts University, will offer the plenary address for the Center's international conference: "The Ethics of Business, Trade, and Global Governance." Lunch is included in the registration fee. Please join us for this engaging presentation at the beautiful Wentworth by the Sea hotel in New Castle, New Hampshire. Cosponsored by the Center for Ethics in Society, the University of Vienna - Department of Finance, and the University of St. Andrews' Centre for Responsible Banking and Finance. Register here ($25) Meet the Speaker  Daniel W. Drezner is Professor of International Politics at Tufts University, a nonresident senior fellow at the Chicago Council on Global Affairs, and the co-director of Fletcher's Russia and Eurasia Program. Prior to joining The Fletcher School of Law and Diplomacy, he taught at the University of Chicago and the University of Colorado at Boulder. He has previously held positions with Civic Education Project, the RAND Corporation and the U.S. Department of the Treasury, and received fellowships from the German Marshall Fund of the United States, Council on Foreign Relations, and Harvard University. Drezner has written seven books, including All Politics is Global and Theories of International Politics and Zombies, and edited three others, including The Uses and Abuses of Weaponized Interdependence. He has published articles in numerous scholarly journals as well as in the New York Times, Wall Street Journal, Politico, and Foreign Affairs, and has been a regular contributor to Foreign Policy and the Washington Post. He received his B.A. in political economy from Williams College and an M.A. in economics and PhD in political science from Stanford University. Saint Anselm College hosting@bostoninteractive.com America/New_York public