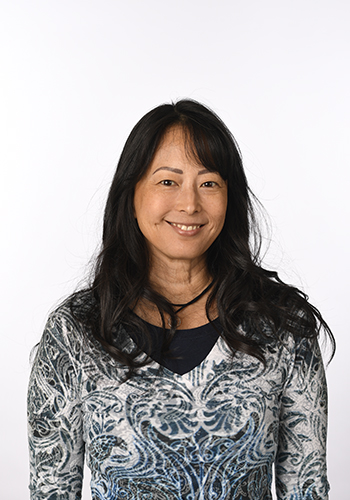 Education
B.S., Marine Biology: California State University, Long Beach
Ph.D., Ecology & Evolutionary Biology: University of Connecticut
Courses

Animal Behavior, Biostatistics, Directed Research, Evolutionary Biology, Marine Biology and Field Studies in Tropical Biology.

Animal Behavior (BI335, LB 335 [WRIT])
This course is an introduction to the basic principles underlying the behavior of animals. Students will gain an understanding of the mechanisms and evolutionary causes that drive behaviors observed in all types of animals (insects, fish, birds, and mammals). Upon completing this course, students will have acquired experiences in observing and recording animal behaviors through laboratory and field-based studies. Currently, field-based studies take place at a local zoo where each student completes a semester-long research project. This course also emphasizes components of and effective strategies for scientific writing.


Fall semester: lecture and lab

sample syllabus (PDF/352KB)

Biostatistics (BI345)
An introduction to the fundamentals of statistics and the application of statistical analyses in biological research. Sampling, parametric and non-parametric techniques and the presentation of data are also covered. Assignments involve spreadsheet calculations and use of statistical software. Required for Biology and Environmental Science majors. Note: the number of enrolled Biology Department majors will be limited to 20 students.

Fall semester

sample syllabus (PDF/228KB)

Directed Research (BI421 / BI422; BI 423)
For more information about projects and opportunities, see LaPlante Lab: Research and People below.

Fall, Spring semesters

Evolutionary Biology (BI325, LB325 [WRIT])
This course focuses on topics at the microevolutionary level such as the agents of evolutionary change leading to speciation and isolating mechanisms between species. It also addresses macroevolution, history of life on earth, systematics, and biogeography.

Every other spring semester: lecture and lab

sample syllabus (PDF/189KB )

Marine Biology (BI 321, LB 321)
An introduction to the function, diversity, and ecology of marine organisms and their environment. The course will cover major groups of marine organisms, marine ecosystems (benthic, seagrasses, reefs, etc.), and human interaction with the marine environment.

Every other spring semester: lecture and lab

sample syllabus - coming soon!

Tropical Biology (BI221) and Field Studies in Tropical Biology (BI222): [GLOB]
This two-semester sequence runs every other year. Combined, the two courses introduce students to the biological complexity of the tropics through lectures, discussions, and participatory field experiences at tropical locations in the ecologically diverse Central American country of Belize. During spring semester students learn about the natural history of tropical biota, patterns of species diversity, rainforest ecology and conservation, coral reef ecology, and Belizean culture and history. During summer session, Saint Anselm faculty and local experts will lead field trips and hands-on exercises in two of the most species-rich ecosystems on the planet, the neo tropical rainforest and the coral reef.

BI 221 + BI 222: open to all majors; counts as a biology lab course.

BI221 (2 credits) every other spring: sample syllabus (PDF/39KB)

BI222 (2 credits) every other summer, sample syllabus (PDF/84KB).

Click here for more information.
LaPlante Lab: Research and People