There are many opportunities for long term service, both domestic and abroad, upon graduating from Saint Anselm. Since 2010 we have had over 65 alumni do a year of service with over 25 programs.
There are also great opportunities for short term or summer service through many wonderful agencies.
Reach out to Campus Minister Joycelin Raho to talk more about Post Grad Service opportunities!
 
Upcoming Events
Post Graduate Discernment Series - All virtual via zoom. 7-8 p.m.
Please email Joycelin Raho at jraho@anselm.edu to get zoom link for all events.
 
Monday, Sept 14 : Is a year of service right for me? How do I start looking for a program? Come get all of your questions answered while speaking with Campus Minister Joycelin Raho, and her resources with the Catholic Volunteer Network.
Watch Recorded Event
 
Monday, Sept. 28 : Alumni Night! Come hear from alumni, class of 2019 who just finished their year of service! We will be welcoming back Hailey Droogan, Megan Miller, Cassidy Diaz, Caroline Ireland, and Abbie Nolan.
Watch Recorded Event
 
Monday, Oct. 5 : Program Spotlight on Notre Dame's ACE Teaching Fellowship, giving you 2 years teaching experience and a free masters degree! Come learn more from recruiters, and hear experiences from current ACE fellow Samantha Delaney '19
Monday, Oct 12 : Education Night! Ed majors or any student interested in teaching, come learn about programs like: Red Cloud Indian School, Pine Ridge SD; Worcester Nativity Prep, MA;  Operation TEACH in Baltimore; Seton Teaching Partners, Bronx NY; Mercy Volunteer Corps
Monday, Oct 19 : Post Grad "mini-fair" welcoming recruiters from all types of programs and placements! All students welcome! Come hear from the following programs: Amate House, Andre House, Bon Secours, Franciscan Volunteer Ministry; Jesuit Volunteer Corps Northwest,  Loretto Volunteers , Maryknoll Volunteers,  St. Joseph the Worker WEST  and more!
Monday, Oct 26 : Health Care Night! Calling all nurses, pre-med majors, or just students interested in health care. Alumni and programs will join and share about volunteer opportunities that might be perfect for you! Come hear from Change a Heart Franciscan Volunteers; Christ House; Colorado Vincentian Volunteers and Mercy Volunteer Corps
Monday, Nov 2 : Theology and Ministry night! Theology majors and anyone interested in youth or campus ministry is welcome! This night is about next steps...so both volunteer programs AND Graduate schools with ministry assistantships will be in attendance. These two go hand in hand! Come hear from: Boston College School of Theology and Ministry, University of Dayton, and the University of Notre Dame ECHO program.
Monday November 9 and Tuesday November 10
Virtual Volunteer Fair - Catholic Volunteer Network (all sessions recorded here)
Monday, November 16 : Virtual "mini fair" Part 2
Come hear from more programs with placements in social work, social services, peace and justice, and more! Come hear from Amigos de Jesus, Honduras ; Augustinian Volunteers; Colorado Vincentian Volunteers, Episcopal Service Corps; Precious Blood Volunteers
Wednesday, November 18 : Why Serve Franciscan?  6pm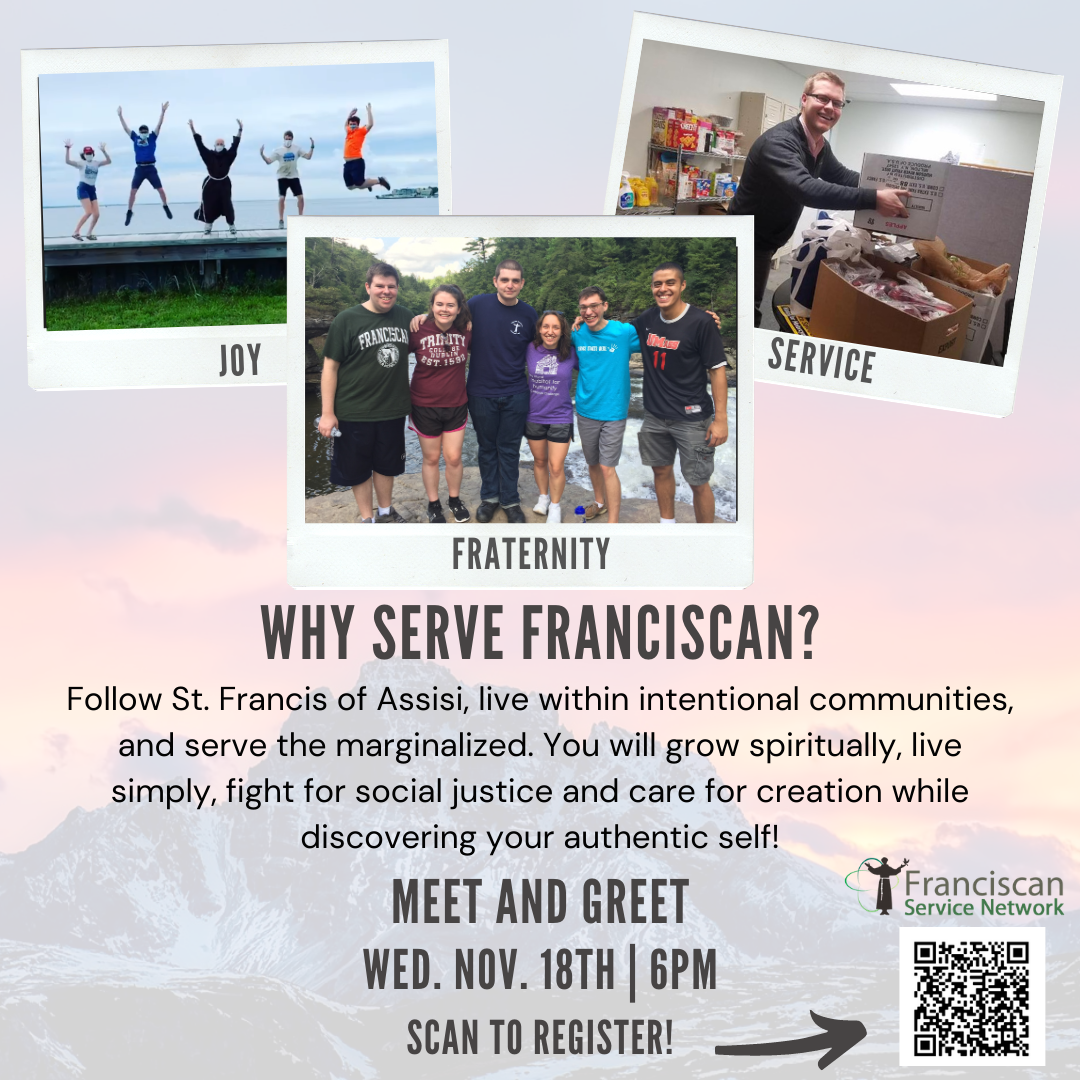 Where have Anselmians served?
Post Grad Service Programs that have hosted Recent Alumni:
ACE - Alliance for Catholic Education, University of Notre Dame
Amate House - Chicago, IL
AmeriCorps VISTA - Manchester, NH
Amigos de Jesus - Honduras
Andre House of Hospitality - Phoenix, AZ
Augustinian Volunteers - San Diego, CA
Boys Hope / Girls Hope - New Orleans, LA
Change A Heart Franciscan Volunteer Program - Pittsburgh, PA
Christ House - Washington D.C.
Christian Brothers Volunteer Program - New Orleans, LA
City Year - Manchester, NH and Boston, MA
Franciscan Volunteer Ministry - Philadelphia, PA and Camden, NJ
Habitat for Humanity - New Orleans, LA
Jesuit Volunteer Corps
Jesuit Volunteer Corps Northwest
Mercy Volunteer Corps, Sacramento CA, Savannah GA, Baltimore MD.
MercyWorks: Mercy Home for Boys and Girls - Chicago, IL
Operation TEACH - Baltimore, MD
PACT - Providence Alliance for Catholic Teachers, Providence College
Peace Corps, Uganda
Salesian Lay Missionaries - Cambodia
UCTC Teaching Corps, Boston College
Vincentian Volunteer Corps - San Francisco, CA
 
* If you are a recent alumni doing service or know of another program that can be listed here, please email Joycelin Raho at jraho@anselm.edu.