Canceled: Friends of the Geisel Library Spring Lecture: Transitional Technologies in the History of the Book
April 16, 2020 | Geisel Library
This event is canceled.
Members of Friends of the Geisel Library are invited to join us at our Spring Lecture: Transitional Technologies in the History of the Book. Keith Chevalier, the College Archivist and Head of Special Collections will present this lecture and a curated exhibit on Thursday, April 16, 2020 at 7:00 pm in the Msgr. Wilfrid H. Paradis Archives and Special Collections of Geisel Library.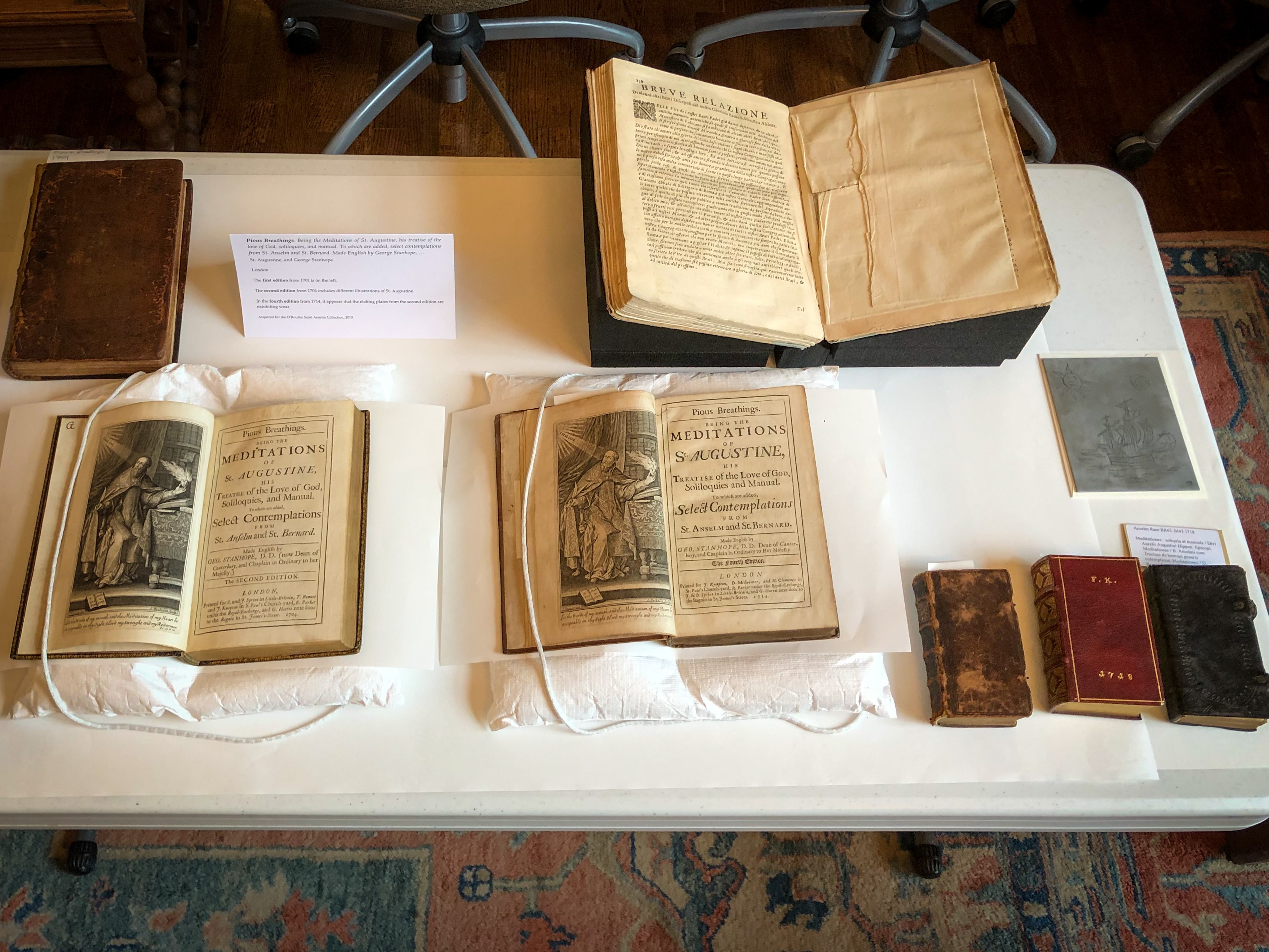 In the lecture, Keith Chevalier will discuss the history of the book using examples from the Special Collections with an emphasis on transitional technologies in the production and reception of books.
Our Special Collections include representative examples of the transition of manuscripts to early printed books; of illustrations from woodcut engravings to copper plate etchings to lithography; and of book bindings in a variety of styles. During the hand-press era (between 1450 and the 19th century), books were printed utilizing increasingly complex production methods and illustration techniques. With ever increasing competition, technological transitions increased the capacity and reach of publishers and authors.
The evening with begin with the lecture at 7:00 pm and will include time for guests to enjoy the curated exhibit. Light refreshments will be provided.
Please RSVP no later than March 16th, 2020 via email to geiselfriends@anselm.edu or by phone to Nicole Pennell at 603-641-7365.
Date/Time
April 16, 2020 from 7:00 PM - 8:30 PM
Location Information
Msgr. Wilfrid H. Paradis Archives and Special Collections, Geisel Library upper level
Contact Information
Nicole Pennell, geiselfriends@anselm.edu or 603-641-7365.
Additional Information
Add Event to Calendar 2020-04-16 23:00:00 2020-04-16 23:00:00 Canceled: Friends of the Geisel Library Spring Lecture: Transitional Technologies in the History of the Book This event is canceled. Members of Friends of the Geisel Library are invited to join us at our Spring Lecture: Transitional Technologies in the History of the Book. Keith Chevalier, the College Archivist and Head of Special Collections will present this lecture and a curated exhibit on Thursday, April 16, 2020 at 7:00 pm in the Msgr. Wilfrid H. Paradis Archives and Special Collections of Geisel Library. In the lecture, Keith Chevalier will discuss the history of the book using examples from the Special Collections with an emphasis on transitional technologies in the production and reception of books. Our Special Collections include representative examples of the transition of manuscripts to early printed books; of illustrations from woodcut engravings to copper plate etchings to lithography; and of book bindings in a variety of styles. During the hand-press era (between 1450 and the 19th century), books were printed utilizing increasingly complex production methods and illustration techniques. With ever increasing competition, technological transitions increased the capacity and reach of publishers and authors. The evening with begin with the lecture at 7:00 pm and will include time for guests to enjoy the curated exhibit. Light refreshments will be provided. Please RSVP no later than March 16th, 2020 via email to geiselfriends@anselm.edu or by phone to Nicole Pennell at 603-641-7365. Geisel Library Saint Anselm College hosting@bostoninteractive.com America/New_York public