How Students Engage with News
November 12, 2018 | Geisel Library
Five Takeaways for Educators, Journalists, and Librarians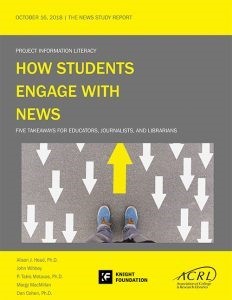 Members of the Saint Anselm College community are invited to bring their lunch and join Geisel librarians for a discussion on Monday, November 12th, 12:30-1:20 p.m. in the library classroom.
To kick off the discussion, librarians will share with attendees the findings of Project Information Literacy's newest report, "How Students Engage with News: Five Takaways for Educators, Journalists, and Librarians."
Please join us and share with your peers how your students engage with news and what it means for their information / media literacy and development. 
Date/Time
November 12, 2018 from 12:30 PM - 1:20 PM
Location Information
Contact Information
Melinda Malik, mmalik@anselm.edu
Add Event to Calendar 2018-11-12 17:30:00 2018-11-12 17:30:00 How Students Engage with News Five Takeaways for Educators, Journalists, and Librarians Members of the Saint Anselm College community are invited to bring their lunch and join Geisel librarians for a discussion on Monday, November 12th, 12:30-1:20 p.m. in the library classroom. To kick off the discussion, librarians will share with attendees the findings of Project Information Literacy's newest report, "How Students Engage with News: Five Takaways for Educators, Journalists, and Librarians." Please join us and share with your peers how your students engage with news and what it means for their information / media literacy and development.  Geisel Library Saint Anselm College hosting@bostoninteractive.com America/New_York public