Make a Card. Send a Smile!
October 27, 2022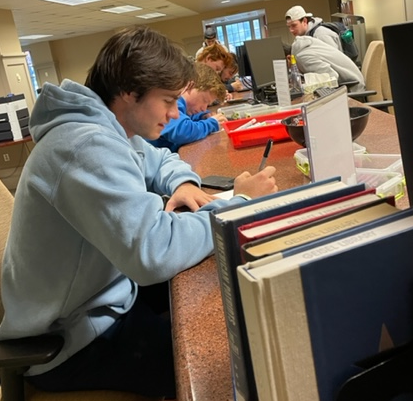 This fall Nicole Pennell, the library's Administrative Coordinator, initiated a card-making program at Geisel Library to spread kindness, love, and support to people in need. All members of the SAC community are invited to monthly events to create cards and/or postcards for sponsored organizations.
The first event took place on September 21st to make cards for Any Refugee. Any Refugee was started in 2014 by a 9-year old boy in Alaska who sought to model the Any Soldier program to support and comfort refugee children. A year later, Any Refugee became part of the Jesuit Refugee Service/USA, a group that "advocates for the rights of refugees and other forcibly displaced persons."
The October event supported A Million Thanks, an organization that seeks to "provide support and appreciation to active and veteran military men and women through sending letters and granting betterment of life wishes." To date A Million Thanks has distributed more than seven million letters to U.S. troops stationed around the world.
If you'd like to participate, the next and final event this semester will take place on Wednesday, December 7, 2022 from 4:30-6:30 p.m. to make cards to bring holiday greetings and cheer to patients at local hospitals.
Materials to make cards are provided at the events, but community members are also welcome to make cards at home and drop them off at the library.
If you have any questions, please contact Nicole Pennell, npennell@anselm.edu.