What Remains: Encountering Images of Stolen Art in Geisel Collections
January 18, 2019
Current Library Exhibit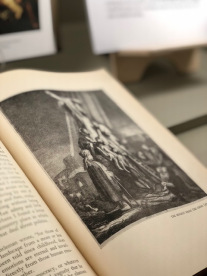 Stories of art heists are the subject of sensational articles, books, and films. They capture the public's imagination and bring to mind images of masked burglars carefully orchestrating complex and intricate thefts. It is only years after the theft that the true ramifications of these events are felt; stolen pieces of art that remain unfound run the risk of disappearing not only from the walls of museums or private collections but also from the cultural record.
Monographs become one of the few places that retain access to these pieces of art but they are poor substitutes for viewing the real thing.
Using the FBI's Stolen Art File Database as the source material, this display presents images found in Geisel's book collection of stolen and still missing artwork. Due to ongoing investigations, not all images are accompanied by details about the theft itself. If that information was made available on the FBI Stolen Art File Database or through newspaper articles, it is presented in the display. The display also contains some examples of recently recovered artwork. Lastly, demonstrating that thefts impact both large and small cultural institutions, details on a theft that occurred at Geisel Library are also presented.
On Thursday January 31st at 3:30 pm, Gwen Verkuilen-Chevalier will discuss the inspiration and selection process for the display and Keith Chevalier will share details of the items that were taken from the Geisel Library. The talk will occur by the foyer display cabinets.
Below is a list of books from the Geisel Library collections that are included in the display:
The Gardner Theft
Jack by Louise Hall Tharp
The Art of Scandal: The Life and Times of Isabella Stewart Gardner by Douglass Shand-Tucci
Isabella Stewart Gardner and Fenway Court by Morris Carter
Rembrandt: The Painter at Work by Ernst Van de Wetering
Stolen and Still Missing
Museum of the Missing: A History of Art Theft by Simon Houpt
Vermeer and the Art of Painting by Arthur K. Wheelock, Jr.
Art and Crime: Exploring the Dark Side of the Art World edited by Noah Charney
Richard Diebenkorn: The Catalogue Raisonné edited by Jane Livingston and Andrea Liguori
Dalí Illustrator by Eduard Fornés
Howard Pyle Writer, Illustrator, Founder of the Brandywine School by Henry C. Pitz
Jacob Lawrence: American Painter by Ellen Harkins Wheat
Renoir by Denis Rouart
America and Lewis Hine: Photographs 1904-1940 foreward by Walter Rosenblum; biographical notes by Naomi Rosenblum; essay by Alan Trachtenberg
R. v. R., The Life of Rembrandt van Rijn by Hendrik Willem Van Loon
Caravaggio: The Art of Realism by John Varriano
Stolen and Recovered
Van Gogh's Van Goghs: Masterpieces from the Van Gogh Museum, Amsterdam by Richard Kendall with contributions by John Leighton and Sjraar van Heugten
Van Gogh: A Retrospective edited by Susan Alyson Stein
Becoming Edvard Munch: Influence, Anxiety, and Myth by Jay A. Clarke
Edvard Munch by Thomas M. Messer