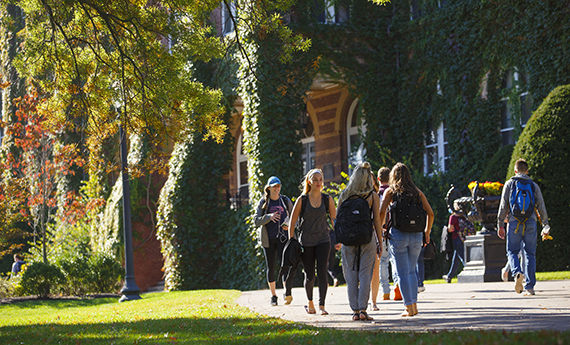 Transfer Talks
Would you like the opportunity to discuss the transfer process with our Coordinator of Transfer Admission?
We welcome applications from transfer students for both the fall and spring semesters. We know the process of applying as a transfer can be an overwhelming one. For that reason we encourage you to contact the Office of Admission should you have any questions.
Transfer students need to submit the following materials in order to have your application reviewed for admission.
Common Application
In addition to completing the Common Application and the essay, you will be asked to answer a few Saint Anselm College member questions.
$50 Application Fee or Fee Waiver
A $50 fee is required with each application.  Saint Anselm College will waive the $50 application fee for all first generation domestic and international students. For this purpose, a first-generation college student is defined as a student whose parent(s) or legal guardian(s) have not completed a bachelor's degree. 
Official College Transcript(s)
College transcripts need to be submitted from every school you have attended.
Official Final High School Transcript
Your high school transcript needs to be submitted directly from your high school. The transcript should include final grades from 9, 10, 11 and 12. It should also include your date of graduation. Please note the high school transcript requirement is waived if you have earned an associate's degree or higher prior to enrolling at Saint Anselm College.
Transfer College Report
The transfer college report (Common Application document) is required so that we can learn more about where you are coming from. To be considered official, the report must be completed by a college official. We require that a report is submited from your current or most recent institution.
Transfer Midterm Report
The mid-term report (Common Application document) allows us to evaluate your most recent college courses. The form should be completed by your college instructors for the courses in which you are currently enrolled. We are looking for your current grade in the course, not your mid-term exam grade.
Official Results of the SAT I or ACT (Optional for all programs except for nursing), SAT code is 3748 - ACT code is 2522
ZeeMee Profile (Optional)
At Saint Anselm College, we look to gain a holistic understanding of each student during the application review process. In an effort to get to know our applicants even better, we have partnered with ZeeMee, a free service that helps students bring their applications to life. Use images, videos, and documents to share your story. Simply copy and paste the link into the Common Application. To begin your ZeeMee profile, you will need to create an account at zeemee.com.
Portfolio (Optional for Fine Arts Program)
If you are interested in applying for our fine arts program, you have the option to submit a portfolio of your work to be evaluated with your application. Saint Anselm College is partnering with SlideRoom which is integrated with the Common Application. Please contact the Office of Admission to learn more about how to submit your portfolio.
Credit Evaluation Process
Preliminary credit evaluations are completed for all transfer students admitted to Saint Anselm College. You will receive a copy of your credit evaluation with your offer of admission or shortly thereafter. An official credit evaluation is completed once you enroll at the college. In order for the Registrar's Office to complete your official credit evaluation all final transcripts must be submitted.
For more information about transfer admission, please contact Tony Trodella, Associate Director of Admission & Coordinator of Transfer Admission.