Frank J. Fahrenkopf Jr. Discusses the Commission on Presidential Debates (CPD)
By Emily Provencher | October 18, 2017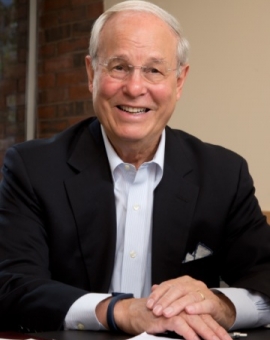 On Monday evening, October 16, the New Hampshire Institute of Politics welcomed Frank J. Fahrenkopf Jr. to discuss his experience working on the Commission on Presidential Debates (CPD). Fahrenkopf currently serves as Co-Chairman on the CPD. His previous work includes his time as President and CEO of the American Gaming Association, and as chairman of the Republican Party from 1983 to 1989.
During his speech, Fahrenkopf gave a history of our presidential debates, which he explained is vital to our current debate structure. He explained how the different debate formats have been formed over time and how they have affected candidates. For example, in 2012, the commission began using fifteen minute pods for different topics so that a moderator could follow up and ensure that a candidate fully answered the question, rather than give the shortest answer possible and hope to jump to another topic. Fahrenkopf was also able to get several laughs out of the audience in sharing all the antics that have gone on with candidates behind the scenes of presidential debates.
The NHIOP is thankful to Frank J. Fahrenkopf Jr. for his speech and is eager to see what the CPD has in store for the 2020 debates.