National Voter's Registration Day
By Colin Mulvey '24 | December 1, 2022
On Tuesday, September 20th on the Alumni Quad, Saint Anselm College and the New Hampshire Institute of Politics, in partnership with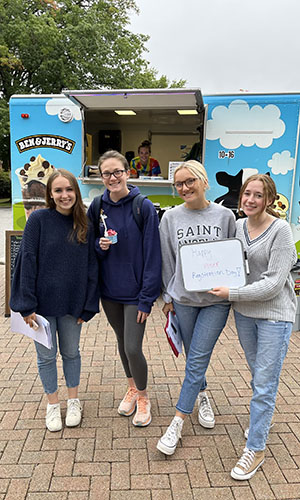 the campus vote project, held an exciting event entitled National Voter Registration Day. The college and the Institute worked together to promote the importance of civic engagement. Aside from issuing instructions on registering to vote and people writing on whiteboards why they vote, there was also a Ben and Jerry's ice cream truck!
On the voter registration forms, there were instructions on how to register to vote in New Hampshire. This included the ways a person can vote in New Hampshire, certain deadlines for election days, and laws. For example, on the top of the handouts, it says, "New Hampshire law does not allow third-party registration or voter registration drives." According to the handout, some of the ways people can register to vote in New Hampshire are by registering in person at the town clerk's office, registering in person with the community supervisors checklist, or registering at your polling place on election day.
Additionally, to be able to vote some of the rules and regulations in New Hampshire include being a U.S. citizen, at least 18 years old on election day, and domiciled in the city or town where the person is registering to vote. All voters are required to show proof of identification, age, citizenship, and domicile which can be satisfied by either document or signing an affidavit.
For more information, please visit the Fair Elections Center site.