Pete Buttigieg Addresses Politics & Eggs
By Sarah Murphy '20 | March 11, 2019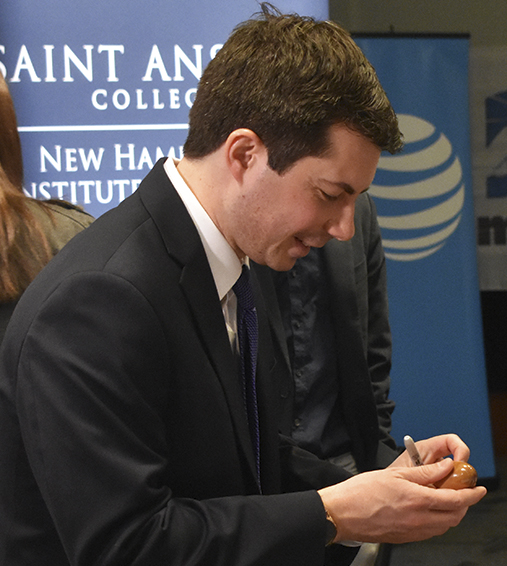 South Bend, Indiana Mayor Pete Buttigieg spoke at Politics & Eggs on March 8 about his plans for the nation if he were to announce a formal candidacy for president.
The Mayor announced he was forming a presidential exploratory committee in late January.
At Politics & Eggs, Buttigieg talked about the advantage that he has as the youngest candidate in the race. He remarked that his age ties him to young voters and gives him a unique perspective.
"I literally belong to the school generation and understand what is in the eyes of young people who are calling an older generation to account for our failure to keep them safe," he said.
The other topics included in Buttigieg's discussion were climate change, national security, health care, and the electoral college.
On climate change, Buttigieg said, "I belong to the generation that will be dealing for the rest of our lives with the implications of climate change. That is a personal issue for us, not a theoretical one."
Buttigieg said modern national security must include cyber, election and climate security.
When answering a question from the audience, Buttigieg discussed his ideas for health care, saying, "We need to have a system that can take care of everyone. We need a more equitable health care system overall."
Buttigieg talked about his lack of faith in the electoral college. He said, "I simply believe that every American ought to have the same vote. No matter where you live, if you're in a big city or a small community, whether you're in a state like Indiana or a state like New Hampshire, when it comes to choosing our president, everybody's vote should be strictly equal."
Buttigieg will decide if he will formally announce a run for the White House in the coming weeks.
Related News: