Student Ambassador Sarah Hummel Receives Service Award
By Chloe Cincotta '22 | April 24, 2019
On April 10, the Paul S. Coleman Volunteer Service & Leadership Awards took place in the Roger and Francine Jean Student Center. Associate Dean of Students, Andrew Litz, welcomed everyone to an evening with the stars.
"Stars" perfectly describes the people recognized at the 26th Paul S. Coleman Awards. The Coleman Awards have recognized seniors at Saint Anselm College for their service and leadership annually since 1993.
The Coleman Awards is in memory of the former Sociology Professor, Paul S. Coleman, at Saint Anselm College from 1975-1985.
He was described as extremely humble according to Daniel Forbes, the Director of Service Education. The award was created to commemorate the commitment to service and leadership by Forbes, Litz, and Richard Meelia.
The keynote speaker, Matt Pendergast '13, referenced the pulse he found during his time at Saint Anselm College. The pulse he found was primarily found by doing Service and Solidarity trips through Campus Ministry.
The trips are dedicated to service in various communities as students are doing the right thing because it is the right thing to do.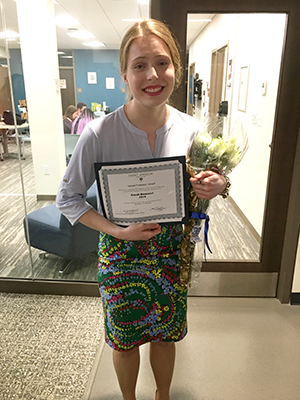 The college's pulse to be active members in communities through service and leadership lives on in Pendergast, who is now an educator and campus minister in Lawrence, Massachusetts.
His final remarks included advice to the class of 2019's Coleman Awards nominees. Pendergast said they have two options after graduating Saint Anselm College; they must find the pulse wherever they end up or bring the pulse with them.
Each department is tasked with giving an award to a student that embodies service and leadership at Saint Anselm College and within their department. The New Hampshire Institute of Politics' (NHIOP) executive director, Neil Levesque, recognized Sarah Hummel '19 from the Kevin B. Harrington Student Ambassador program.
Hummel is the co-chair for the Community Outreach Committee in the ambassador program. Levesque described Hummel as a leader in the ambassador program who is organized, well connected within the college's community in various ways, and "betters the community."
In addition to being a co-chair for the Community Outreach committee, Hummel is also involved in club lacrosse, a member of the honors college, a member of five honors societies, and is an exhibit curator at the NHIOP.
Other department awards were given to Braelyn Croteau and Samantha Delaney (Campus Ministry), Taylor Head (Admissions), Felipe Bispo (Athletics), Mallory Schell (Health Services), Kerrin Norton (Dean of Students), Pauline Yates and Megan Miller (Meelia Center for Student Engagement), Yuliana Vaquerano (Intercultural Center), and Abigail Reynolds (Student Engagement & Leadership).
The Paul S. Coleman Senior Service Award for Outstanding Service Engagement was given to seniors Grace D'Antuono and Braelyn Croteau. The Paul S. Coleman Senior Service Award for Outstanding Service Leadership was given to Kerrin Norton and James Bloor.