Executive Director Neil Levesque Recognized as Influential Leader in New Hampshire
December 16, 2021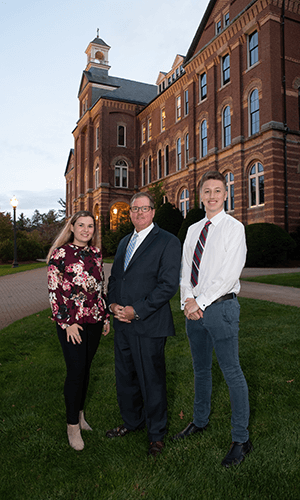 On Dec. 9, the NH Business Review recognized Executive Director of the New Hampshire Institute of Politics, Neil Levesque for his work in New Hampshire through the magazine's New Hampshire 200 Awards. The review's editors believe the 200 honorees are the state's most influential business leaders across major industries including education, business, marketing, and nonprofit, and real estate. Levesque joined five other Anselmians including Professor Loretta Brady '99 and alumni Dean J. Christon '78, Natalie Jutras '99, EJ Powers '05, and Michael Skelton '04.
"We are so pleased to see these Anselmians recognized as leaders in their fields," said Dr. Joseph A. Favazza, president of Saint Anselm College. "Each one represents the thoughtful and values-based education that is provided here on the Hilltop.
Since 2009, Levesque has held his position at the Institute leading it and the college through a variety of state and national productions including five presidential debates and numerous distinguished speakers including U.S. presidents, vice presidents, and presidential candidates.
In addition, the Institute launched a successful survey center in the wake of the 2016 election that conducts quarterly polls of New Hampshire voters' attitudes. This research supports the academic mission of the College, and provides the public at large with insight into political opinion trends that impact the state's federal and gubernatorial elections. "The survey center is another way we participate politics and our record has been phenomenal," says Levesque.
With all the programs that the Institute offers, Levesque says he is most proud when students are able to make a connection and develop a real passion for politics and civic engagement.
The Institute's scope and exposure have grown substantially under the direction of Levesque, who regularly appears on news broadcasts and partners with national media outlets on political programs. Most notably, he helped the Institute capture an earned media value of over $39 million during a two and a half month period in 2016.
As the institute celebrates its 20th anniversary, it continues to fulfill its mission of educating, engaging, and empowering citizens to participate in the civic and political life of their local, national and global communities through guest speaker events.
On Thurs., Oct. 14, 2021, members of Saint Anselm College's President's Society gathered to celebrate the 20th anniversary of the New Hampshire Institute of Politics (NHIOP). At that time, Dr. Favazza recognized the impact of the NHIOP as well as Neil's role. "I'm thrilled that we are able to host this important event in person: an event that celebrates the impact of the NHIOP – which has become a center of state and national politics in New Hampshire.
"I want to take a moment to thank Neil Levesque for his incredible leadership over the past 12 years as well as everyone who was essential to the founding of the NHIOP."
In addition to his roles in politics, finance, and higher education, Levesque has served on numerous nonprofit boards. Currently he serves on the Board of Catholic Medical Center and as vice chair of the Pease Development Authority. 
Levesque grew up in Nashua, N.H., and earned his B.A. in political science at Wheaton College.