Former Vice President Mike Pence Speaks at Politics & Eggs
September 6, 2022
On Wednesday, August 17, 2022, the New Hampshire Institute of Politics (NHIOP) at Saint Anselm College welcomed former Vice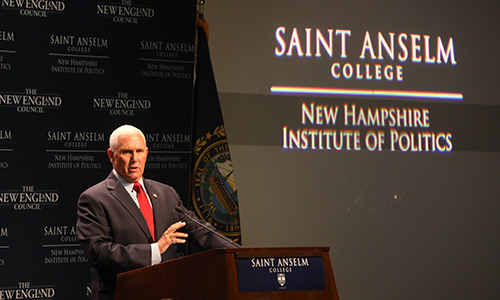 President of the United States Mike Pence for the Institute's famous Politics and Eggs Series. 
Listing a variety of challenges, from a global pandemic to conflicts around the globe, Pence said he was optimistic about the future. "I've seen the character of the people in this country. The American people always rise to the challenge," he told the capacity crowd inside the New Hampshire Institute of Politics. 
Pence kept his remarks focused on the future of the Republican party rather than his own political future.
"I truly do believe, now more than ever, that leaders in our party here in New Hampshire and all across America need to be focused on the challenges facing the American people today and offer positive, proven solutions for tomorrow," he said. 
Members of the audience then had their questions answered and eggs signed by Pence.
Pence's visit was reported throughout the United States by media large and small. Here's a snapshot of the coverage from his visit:
Boston Globe: "More Mush from Mike Pence"
Boston Herald: "Former VP Mike Pence visits New Hampshire for pre-presidential pitstop" 
CNN: "Mike Pence says he'd consider testifying before January 6 committee if invited"
WMUR: "Mike Pence says in New Hampshire stop he would consider testifying before Jan. 6 committee"
NBC Boston: "Former VP Mike Pence Says He Would 'Consider' Invitation to Testify Before Jan. 6 Committee"
CBS News: "Pence says he'd "consider" testifying before House Jan. 6 committee if asked"
The Associated Press: "Former VP Mike Pence urges GOP to stop lashing out at FBI over Mar-a-lago search"
ABC News: "Pence says he'd consider testifying before Jan. 6 committee if asked"
Politico: "Pence: 'I would consider' testifying to Jan. 6 committee
New York Post: "Pence says he'd 'consider' testifying before Capitol riot committee"
Union Leader: Pence Sticks Up for FBI, Calls on Attorney General to Release More on Mar-a-Lago Raid"
Yahoo News: "Former VP Mike Pence says he would 'consider' testifying before Jan. 6 committee if asked" 
Reuters: "Pence says he would consider testifying to Jan. 6 Capitol riot panel"
The Hill: "Pence says he would 'consider' invitation to testify before Jan. 6 panel"
Newsweek: "Trump News Updates: Trump Team Concerned with the 'Validity' of FBI Affidavit"
USA Today: "Former VP Mike Pence says he would 'consider' testifying before Jan. 6 committee if asked" 
NH Journal: "Pence's Latest New Hampshire Appearance Has GOP Asking: What's the Point?" 
Wall Street Journal: "Mike Pence Condemns Threats Against FBI in Wake of Mar-a-Lago Search"
The Guardian: "Mike Pence condemns Republicans' attacks on FBI over Trump search"