Healing Our Divided Society: Reducing Poverty, Inequality, and Racial Injustice Fifty Years after the Kerner Commission
March 28, 2019 | NH Institute of Politics
In 1968, the Kerner Commission concluded that America was heading toward "two societies, one black, one white — separate and unequal." In 2018, Fred Harris, the last surviving member of the Kerner Commission and Eisenhower Foundation CEO Alan Curtis, concluded in their book Healing Our Divided Society that America still had not made much progress in reducing poverty, inequality, and racial injustice.
Curtis will discuss the need for evidence-based policies concerning employment, education, housing, neighborhood development, and criminal justice based on what has been proven to work — and not work. A key prerequisite is the generation of the "new will" that the Kerner Commission warned was essential. To begin generating "new will," a new coalition needs to build the movement for economic justice among all races as well as the poor, the working class, and the middle class that Martin Luther King and Robert F. Kennedy were advocating for in 1968 before they were assassinated. 
Alan Curtis is President and CEO of the Eisenhower Foundation in Washington, D.C.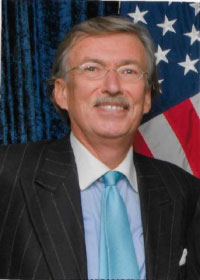 He served as Executive Director of President Jimmy Carter's interagency Urban Policy Group and as Urban Policy Advisor to HUD Secretary Patricia Roberts Harris, the first African American woman to be appointed a Cabinet Secretary. Earlier, he served as a Task Force Co-Director on President Lyndon Johnson's National Commission on the Causes and Prevention of Violence, formed after the assassinations of Dr. Martin Luther King and Senator Robert F. Kennedy.  
He is also co-editor of the Eisenhower Foundation's Fifty Year Update of the 1968 National Advisory Commission on Civil Disorders, known as the Kerner Commission, after its chair, Otto Kerner, then Governor of Illinois. 
Date/Time
March 28, 2019 from 6:00 PM - 7:00 PM
Location Information
Add Event to Calendar 2019-03-28 22:00:00 2019-03-28 22:00:00 Healing Our Divided Society: Reducing Poverty, Inequality, and Racial Injustice Fifty Years after the Kerner Commission In 1968, the Kerner Commission concluded that America was heading toward "two societies, one black, one white — separate and unequal." In 2018, Fred Harris, the last surviving member of the Kerner Commission and Eisenhower Foundation CEO Alan Curtis, concluded in their book Healing Our Divided Society that America still had not made much progress in reducing poverty, inequality, and racial injustice. Curtis will discuss the need for evidence-based policies concerning employment, education, housing, neighborhood development, and criminal justice based on what has been proven to work — and not work. A key prerequisite is the generation of the "new will" that the Kerner Commission warned was essential. To begin generating "new will," a new coalition needs to build the movement for economic justice among all races as well as the poor, the working class, and the middle class that Martin Luther King and Robert F. Kennedy were advocating for in 1968 before they were assassinated.  Alan Curtis is President and CEO of the Eisenhower Foundation in Washington, D.C. He served as Executive Director of President Jimmy Carter's interagency Urban Policy Group and as Urban Policy Advisor to HUD Secretary Patricia Roberts Harris, the first African American woman to be appointed a Cabinet Secretary. Earlier, he served as a Task Force Co-Director on President Lyndon Johnson's National Commission on the Causes and Prevention of Violence, formed after the assassinations of Dr. Martin Luther King and Senator Robert F. Kennedy.   He is also co-editor of the Eisenhower Foundation's Fifty Year Update of the 1968 National Advisory Commission on Civil Disorders, known as the Kerner Commission, after its chair, Otto Kerner, then Governor of Illinois.  NH Institute of Politics Saint Anselm College hosting@bostoninteractive.com America/New_York public