How Jefferson Used the White House as a Tool to Save Democracy
February 25, 2020 | NH Institute of Politics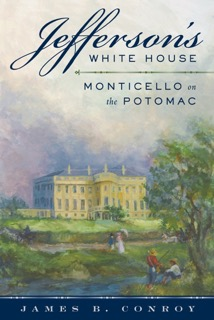 The Republic's formative years were a time of deep division, much like our own, as powerful, privileged forces in the Federalist Party attacked democracy itself and promoted an American plutocracy protected by law, strict limits on the right to vote, and the suppression of political dissent.
Based on his third book, Jefferson's White House: Monticello on the Potomac, James B. Conroy's presentation will focus on the mansion in Jefferson's time, the people who passed through it — white, black, and Native American — the political and cultural forces that were pulling the country apart, and Jefferson's use of the President's House to pull it back together, reverse a trend toward oligarchy, and restore a sense of civility to the American body politic.
James B. Conroy is a co-founder of Donnelly, Conroy & Gelhaar, LLP, one of Boston's leading litigation law firms. In 2014 he was elected a Fellow of the Massachusetts Historical Society in recognition of his first book, Our One Common Country: Abraham Lincoln and the Hampton Roads Peace Conference of 1865, about Lincoln's peace talks with Confederate leaders on a riverboat in Virginia near the end of the Civil War. Our One Common Country was a finalist for the Gilder Lehrman Lincoln Prize, awarded to the author of the best book of the year on Lincoln or the Civil War era.
Conroy's second book, Lincoln's White House: The People's House in Wartime, won the Lincoln Prize and the Abraham Lincoln Institute's annual book award. Peter Onuf, Thomas Jefferson Professor of History Emeritus at the University of Virginia, has called Conroy's newly released third book, Jefferson's White House: Monticello on the Potomac, an "invaluable contribution" to our understanding of Thomas Jefferson, an "ambitious, enlightening, and brilliantly realized project."
Date/Time
February 25, 2020 from 6:00 PM - 7:00 PM
Location Information
Additional Information
Book sale and signing to follow the presentation.
Add Event to Calendar 2020-02-25 18:00:00 2020-02-25 18:00:00 How Jefferson Used the White House as a Tool to Save Democracy The Republic's formative years were a time of deep division, much like our own, as powerful, privileged forces in the Federalist Party attacked democracy itself and promoted an American plutocracy protected by law, strict limits on the right to vote, and the suppression of political dissent. Based on his third book, Jefferson's White House: Monticello on the Potomac, James B. Conroy's presentation will focus on the mansion in Jefferson's time, the people who passed through it — white, black, and Native American — the political and cultural forces that were pulling the country apart, and Jefferson's use of the President's House to pull it back together, reverse a trend toward oligarchy, and restore a sense of civility to the American body politic. James B. Conroy is a co-founder of Donnelly, Conroy & Gelhaar, LLP, one of Boston's leading litigation law firms. In 2014 he was elected a Fellow of the Massachusetts Historical Society in recognition of his first book, Our One Common Country: Abraham Lincoln and the Hampton Roads Peace Conference of 1865, about Lincoln's peace talks with Confederate leaders on a riverboat in Virginia near the end of the Civil War. Our One Common Country was a finalist for the Gilder Lehrman Lincoln Prize, awarded to the author of the best book of the year on Lincoln or the Civil War era. Conroy's second book, Lincoln's White House: The People's House in Wartime, won the Lincoln Prize and the Abraham Lincoln Institute's annual book award. Peter Onuf, Thomas Jefferson Professor of History Emeritus at the University of Virginia, has called Conroy's newly released third book, Jefferson's White House: Monticello on the Potomac, an "invaluable contribution" to our understanding of Thomas Jefferson, an "ambitious, enlightening, and brilliantly realized project." NH Institute of Politics Saint Anselm College hosting@bostoninteractive.com America/New_York public