Fake News Panel: National Journalists Assess Their Industry
February 23, 2018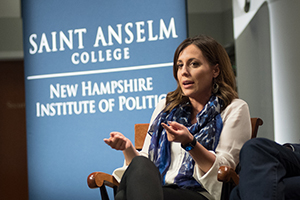 Discussion of the changing business of modern political journalism engaged a packed auditorium of 200 faculty, staff, students and local community members at "Leaks, Fake News, and a Free Press," a panel held in the New Hampshire Institute of Politics on February 20. Representing major media organizations of print, TV, radio, and on-line media, five nationally-recognized political journalists analyzed, reflected and vented on the state of their profession in 90 minutes of energetic, fast-paced discussion.
Opening the conversation, Dan Balz, Senior Correspondent of The Washington Post and moderator of the panel, stated, "We are in a very unusual time. The news media is challenged, even called the opposition. The credibility of our business is being called into question."
From that moment, the exchange was quick and continuous, with each journalist sharing a different perspective on shared concerns. On the panel were Jamelle Bouie, Chief Political Correspondent, Slate.com; Domenico Montanaro, Lead Editor for Politics, National Public Radio; Hallie Jackson, White House Correspondent, NBC News; and Shannon Pettypiece, White House Correspondent, Bloomberg News.
One theme of discussion was changing societal attitudes and the fluid definition of things formerly considered "normal" in journalism. Balz quoted Marty Baron, publisher of the Post, who stated: "Something profound has changed in our profession. Have the laws of physics changed for us?" Balz also cited a Gallup poll concluding 66% of Americans say news media sensationalizes and does not do a good job of separating fact from fiction.
Speaking for journalists, Bouie added, "We are all operating in good faith...I don't think journalism has figured out what to do with bad faith critics. What do you do when you have critics who don't share your goal of being the best arbiter of truth you can be? They don't want that of journalists."
Pettypiece described her disappointment at criticism for the Post's coverage of Senator Roy Moore's U.S. Senate campaign. "People discounted it because it was in the Post. But it was well reported and followed all the rules of journalism. It just wasn't to be believed because of where it appeared. It's going to be hard to break through the truth sometimes."
All the panelists agreed multiple sources confirming a single report or fact are more important than ever today. Jackson of NBC said her standard is to "verify, verify, verify," and Pettypiece spoke of a need for "17 sources" to validate a fact. The panel effectively nodded in agreement while recalling Watergate scandal coverage of the 1970s, when two sources were a new confirming standard of the day.
Evoking "fake news," Moderator Balz said, "The press has a responsibility to call out falsehoods" and asked "How has that changed?" Jackson replied that fact-checking is required in real time and that reports must be put into context. As a specific example of routine impacted by the dynamic state of journalism, Jackson wondered aloud about the routine of White House press briefings: "Is it helpful to go?" She then answered her own question, noting, "It's helpful to get someone on the record even if its misinformation or bad information. It's important to hold them accountable."
Talk turned to coverage of President Trump's tweets, when Balz asked, "Why do you pay so much attention to tweets?" which Montanaro compared to press statements: "We're getting an unvarnished look at what a president thinks. President Trump acts in a way that is not carefully crafted like previous presidents." Pettypiece of Bloomberg noted that this change of presidential style is "unorthodox," but she noted that the press does "have a lot of contact" [with the president]."
All the panelists generally agreed that they feel the news media are doing a good job -- but can still do better. Said Pettypiece: "We're at a moment when we have to do our jobs flawlessly. That's a good thing to come out of this. We're on the tip of a knife and our audience could easily tip the other way. As journalists, we can all do better. There have been times we have not questioned people's motives enough. We've moved too fast on things. Are we being too cautious? Are we being too easy? It's good to have this other standard; someone is placing a bet on this information. It better be right."
Jackson remarked that "Media are still wrong to be in D.C. and New York, and never leave. Being on the road, I had a very different perspective. At CVS or at breakfast, people will talk to you. This doesn't happen enough in media."
Despite the sea change in politic journalism, all the participants described themselves as energized and no less engaged. "We are privileged to do what we do and we have a front row seat for it," said Montanaro.