Lt. Gov. Geoff Duncan Discusses his book and the Republican Party
November 2, 2021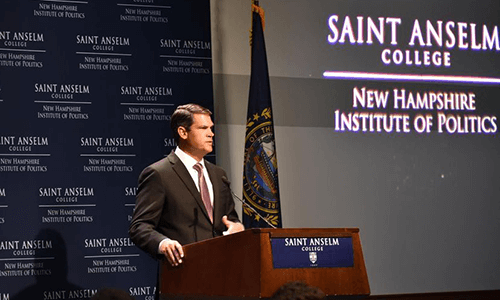 On Tues., Oct. 19, the New Hampshire Institute of Politics (NHIOP) at Saint Anselm College welcomed Georgia's Lt. Gov. Geoff Duncan to discuss his recent book, "GOP 2.0" as part of their Bookmark Series.
A former professional baseball player and entrepreneur, Duncan was elected as Georgia's 12th lieutenant governor in 2018. Prior to running for Lieutenant Governor, Geoff served in the Georgia House of Representatives from 2012 to 2017.
At the Institute, Duncan spoke about his book and the PET Project: creating better Policy, Empathy, and Tone within the Republican Party as a 'better way forward.' His visit was recorded and mentioned in news outlets throughout New England and the country.