Meet Maeve McAllister, Co-chair of Student Ambassador Program
November 3, 2021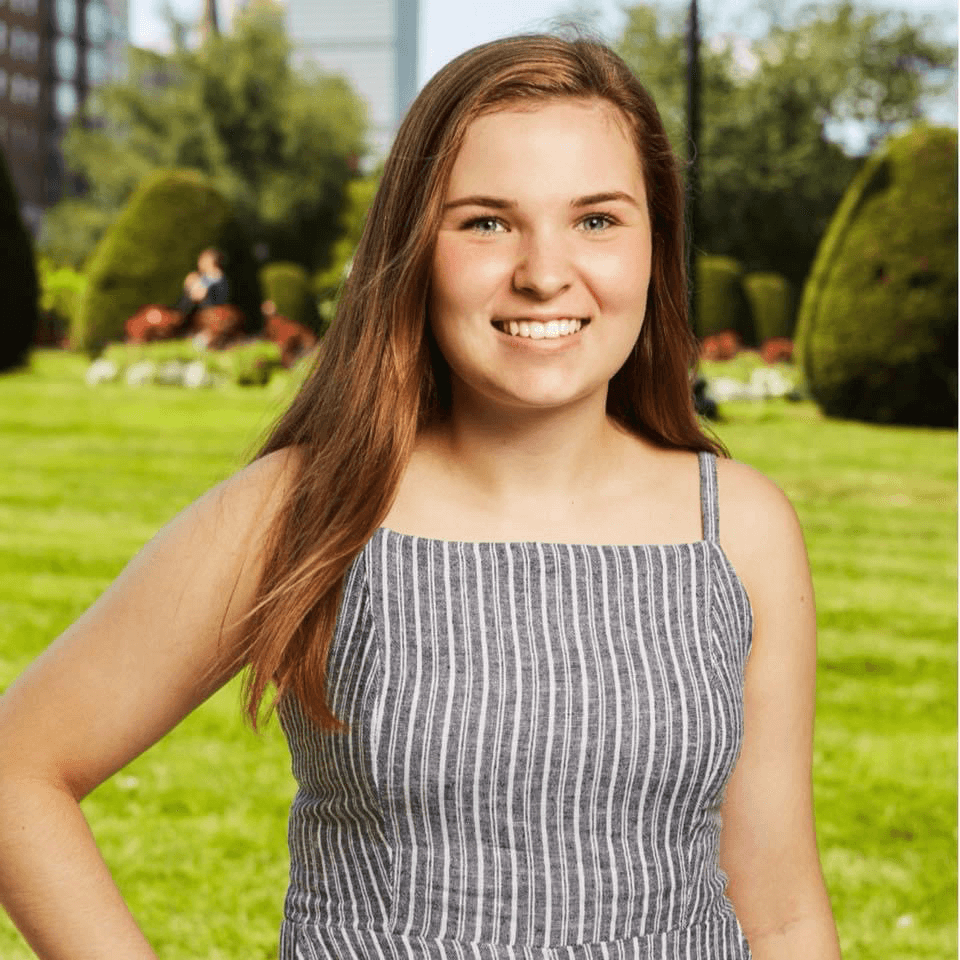 Maeve McAllister '23 is a junior politics and criminal justice double major from Melrose, Mass. In addition to her coursework, Maeve serves as a program co-chair for the Kevin B. Harrington Ambassador Program at the college's New Hampshire Institute of Politics (NHIOP).
 
Why did you choose Saint Anselm College?
I chose Saint Anselm for a few reasons. When I was on tour here I instantly felt a sense of a close-knit community.
 
In addition to being program chair, how else are you involved on campus?
On top of being an orientation leader and a program chair at NHIOP, I am the vice president of the Irish dance team and the manager of the Phonathon program. Both positions have helped meet so many new friends and have given me so many great opportunities. In 2019, the Irish dance team and I traveled to Villanova University for a collegiate competition where we placed 5th out of 30 teams!
 
Do you know what you want to do after graduation?
I do not have a clear plan of what I want to do after graduation. I would love to go to graduate school in Boston or Washington, D.C. and study criminal justice to a further degree.
 
What was the first NHIOP event you attended?
My first event was at the Institute of Politics, and it was hosted by Ben & Jerry's in favor of Bernie Sanders. We were served ice cream by Ben himself!! It was awesome to meet other politics majors and talk about things we all were interested in and had in common."
 
How did you get involved with the Kevin B. Harrington ambassador program?
I knew I wanted to be involved on campus and kept receiving emails from the Institute. I decided to attend one of the events and it gave me a taste for what I want to do with my career. I knew this would give me the opportunity to meet people with my interests and passions and allow me to have first-hand unique experiences.
 
As a program chair, what do you have to do?
I describe the position as a manager position because I am a connection point to all of the ambassadors. I work as a head of the students, I send out emails, schedule and run meetings, ensure all of the programs are running smoothly. In a sense, Ryan, my co-chair, and I, are the face of the program.
 
What is your favorite part about the ambassador program?
I am so grateful for the opportunities that this program has given me. Each day is unique and the NHIOP has given me first-hand experiences that typically students would have to go to Washington, D.C., to be a part of. The people I work with share the same passions and interests as me and it is so interesting to be surrounded by them.
 
What is your favorite event hosted at NHIOP?
I love the Finding a Common Ground event. It is a unique experience where there is a topic that has two different sides of argument. I love this event because it is a safe place for students to share their opinions and listen to other opinions as well in a civil environment. This event involves two students facilitating the event and typically around thirty students sharing their opinions on the topic. This event allows all students to get involved and take politics outside of the classroom.