Meet Ryan Heath, Co-chair of the Student Ambassador Program
December 15, 2021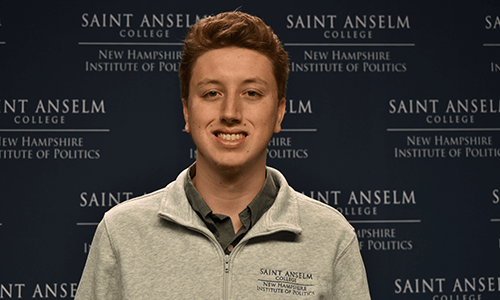 Ryan Heath '22 is a senior economics and marketing double major from Salisbury, N.H. He's also a program co-chair for the Kevin B. Harrington Ambassador Program at the college's New Hampshire Institute of Politics (NHIOP).
 
WHY DID YOU CHOOSE SAINT ANSELM COLLEGE?
Saint Anselm was one of a small group of schools I was looking at. When I went on a tour here, I could tell that there was a friendly community that I did not see anywhere else. I enjoyed the liberal arts focus and how close the school was to home. Also, the Institute itself. It hosts presidential debates, has politicians coming to the building all the time and I knew this would be a good way to make connections and network.
HOW DID YOU GET INVOLVED IN THE AMBASSADOR PROGRAM?
I came to school freshman year knowing that I wanted to be involved in NHIOP. The best way to do this is through joining the ambassador program. I applied to the program and was accepted the spring semester of my freshman year.
WHAT IS YOUR FAVORITE PART ABOUT THE PROGRAM?
I love the fact that as a student, I will get exactly as much out of this program as I put into it. The opportunities the program offers are amazing. As students, we have the opportunity to host events, we get to run microphones and introduce politicians to the crowds. At events, the conversations we have with people give us the chance to network for future internships or jobs.
WHAT IS A DAY IN YOUR LIFE IN THE AMBASSADOR PROGRAM?
As a program co-chair I help coordinate all committee chairs, help plan and schedule events, I make sure all our events line up with the Institutes mission. I also make sure other ambassadors are fulfilling their requirements and I answer any questions they may have. As a whole, we work to promote political discussion and civic engagement, addressing topics such as race relations, education, and minimum wage. We are focused on civic engagement and getting much of the student body on campus involved.
WHAT IS YOUR FAVORITE EVENT AT NHIOP?
I love the Politics and Eggs event. I really see this as one of the Institute's flagship events that provides students with many opportunities.
At the Politics and Eggs event, a candidate will visit the Institute to attend breakfast. The candidate interacts with students and members of the community by answering questions. We also get these cool wooden eggs. I have a collection of these eggs that are signed by politicians like Bernie Sanders and Kamala Harris. This event brings excitement to the community and gives students the opportunity to have direct interaction with politicians.