NHIOP Co-Hosts Empowering Forum for Young Female Athletes
October 15, 2019
Hundreds of young New Hampshire women and their families filled the Dana Center for the Humanities on October 10 for an empowering discussion about advancing the role of women and achieving gender equity in American society.
The New Hampshire Institute of Politics (NHIOP) presented "Woman-to-Woman: Shooting for Greatness" in conjunction with the girls basketball team from Bishop Guertin High School, a private school in Nashua, N.H. Senator Jeanne Shaheen (D-NH) kicked off the conversation as the evening's special guest.
During her time as director of the Institute of Politics at Harvard University, Sen. Shaheen said she would often address rooms full of college students. Whenever she asked who was interested in running for office, she found that almost every man in the room would raise his hand while only a third or fourth of the women would raise theirs.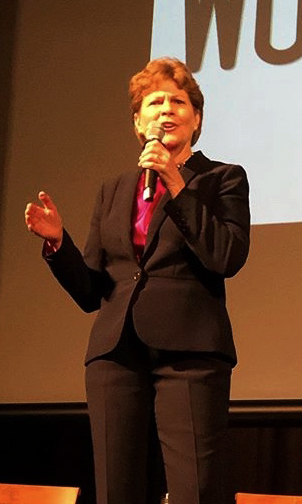 "It makes a difference when women are at the table," Sen. Shaheen told the crowd as she encouraged women to run for public office and leadership positions. She stressed that anything is possible with a strong support system and confidence in your own abilities.
After inspiring remarks from the Senator, the panel moderated by former Senator Kelly Ayotte (R-NH) took the stage to discuss the first topic of the night – equity.
Sen. Ayotte shared how she was the only new female senator elected in 2010, and on her first day she went to her desk only to be told, "That desk if for senators only." She then told the man that she was a senator and worked very hard to get there.
Sarah Behn, the head women's basketball coach at Brown University, noted that it's important to look at the progress made in gender equity and pay. "The people before me made less, but they paved the way for me," she said. 
Sandy Cleary, founder and CEO of SLC Group Holdings, advised the young women to focus on proving themselves as peers. "You only have one chance to make a first impression," she stated. "You hold your head high and have confidence when you walk in that room."
WMUR-TV News Director Alisha McDevitt described how she worked her way up from being a news producer to the news director. She shared some of the lessons she learned along the way, telling the audience that you have to, "Stand up, raise your hand, and believe in yourself." She added how proud she is that in nearly 25 years at the station, she's seen more women hold her job than men.
Moving on to a discussion about leadership, McCall Gosselin, vice president of PR and communications at Planet Fitness, emphasized McDevitt's message. "It's very important to raise your hand. It's empowering to raise your hand. And once you do it one time, two times, it gets a lot easier," she said.
Dianne Mercier, senior vice president and New Hampshire market president at People's United Bank, explained that, "As women we always think there's just one more qualification we need to get ourselves out there." The rest of the panel agreed with Mercier and suggested going for the jobs you're not quite qualified for, because you can always figure out what you don't know.
The panelists took a break in their discussion so that high school students Emma Rosenbaum (Bedford), Jesse Ames (Pinkerton), and Olivia Brannen (Goffstown) could add their thoughts on topics facing young women today.
Rosenbaum's speech focused on activism. After analyzing definitions of the word "empowerment," she decided that, "If empowerment is a process, then empowering women starts with girls." 
Addressing the adults in the room, Rosenbaum said, "You want to build us up? You should be asking us more often 'What do you think?'" and "Teach us how to be activists."
Ames spoke about confidence with a personal story about her experience with alopecia areata, an autoimmune disorder that causes unpredictable hair loss. She shared how she was able to stay confident with the support of her family, teammates, and teachers, noting, "Confidence in its simplest form is acceptance."
On the ignorance and judgement she sometimes faced, Ames decided, "It's not selfish to be yourself; it's selfish to put down others because they're them."
Brannen used her time to acknowledge October 10 being Mental Health Awareness Day, and encouraged the audience to seek help when they need it. She received a standing ovation for her empowering message on ending the stigma about mental health.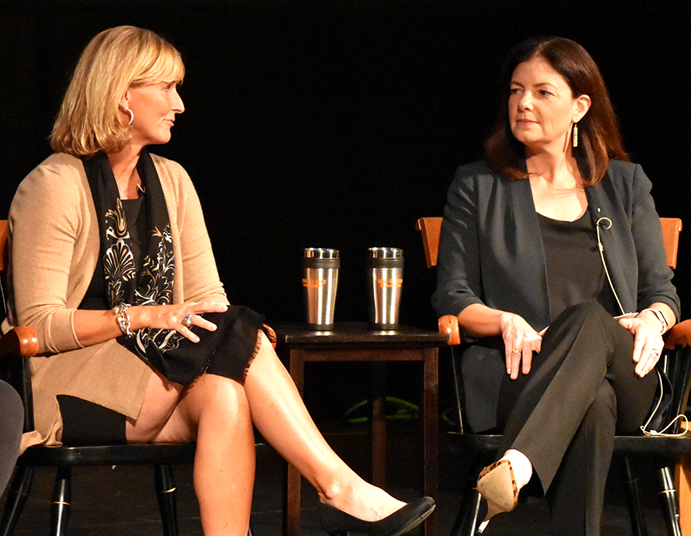 The panel's final topic of the night was work-life balance. Behn has four kids, and said she tries to take breaks when she can and relies on the people around her for help. 
Mercier, on the other hand, said she doesn't believe in work-life balance. Instead, she suggested, "You need to limit the amount of priorities you can manage. When you don't know what your two or three priorities are, you don't know how to clear boundaries."
McDevitt agreed, explaining, "There is no such thing as work-life balance. Sometimes you have to give work 110%, sometimes you have to give your family 110%," but, "It's okay to ask for help."
"I don't know what work-life balance is," added Cleary. "My children have four legs; I don't know what would happen if they had two!" she said, referring to her pets. 
"I think we're all a work in progress on this one," said Sen. Ayotte. She then concluded the discussion with Sheryl Sandberg's famous quote, "In the future, there will be no female leaders. There will just be leaders."
Finally, members of the Bishop Guertin Girls' Basketball Team presented a $20,000 donation from the generosity of event sponsors and the community to Bridges, a non-profit agency dedicated to helping victims and survivors of domestic and sexual violence.