Representative Liz Cheney Speaks at Institute of Politics
December 7, 2021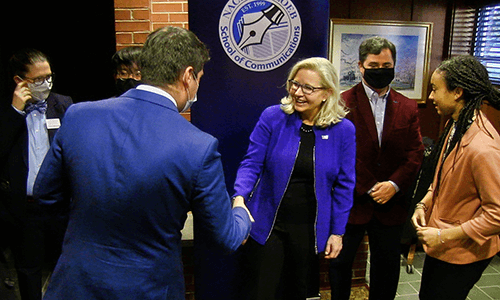 On Tues., Nov. 9, the New Hampshire Institute of Politics hosted the Nackey S. Loeb School of Communication's yearly First Amendment Award Celebration, with Republican Rep. Liz Cheney of Wyoming as the event's keynote speaker.
It was the Loeb School's 18th ceremony, where the First Amendment Award "honors individuals or groups who have in some extraordinary way, exercised or sought to protect the Constitution's First Amendment rights of free speech, assembly, press, religion, or government petition."
This year, the First Amendment Award honorees were Tara Gunnigle and Jon Pearson, a couple from Webster, N.H. Read more on the event and why Gunnigle and Pearson were recognized on the NHIOP blog.
Rep. Cheney's visit was recorded and mentioned in news outlets around the nation.
AP Story:
Other Outlets