The 11th President: Dr. Joseph A. Favazza
June 7, 2019
Saint Anselm College today announced that its 11th president will be Dr. Joseph A. Favazza, a leader in liberal arts higher education with a longstanding record of success in achieving critical academic and institutional goals.
Chair of the Board of Trustees Ann M. Catino, Esq. '82 said "We have found in Dr. Favazza a president who will strengthen our Benedictine spirit as we move forward, to ensure that our college and our students reach their fullest potential in the lifelong pursuit of truth, personal growth, and service. He understands and embraces the enduring value of a liberal arts education and our traditional core, and recognizes the need to prepare students for pre-professional programs and to instill the values of life-long learning and service to others. We were drawn to Dr. Favazza's vision of what the future of Saint Anselm can be, and we are confident in his ability to work closely and effectively with our Board, the members of Saint Anselm Abbey, and our entire community. He knows the vital role Saint Anselm College plays in the life of our students and faculty, as well as for the economy, workforce, and Manchester community. We are very excited about what he will bring to our college, and we look forward to a vibrant future under Dr. Favazza's leadership."
"My wife Paddy and I are excited to be welcomed into the Saint Anselm community which has already shown us its legendary hospitality and community," says Dr. Favazza. "The Catholic and Benedictine mission of Saint Anselm College has drawn me to this opportunity and it resonates strongly with my experience as a faculty member and an academic leader at Rhodes College and Stonehill College. I look forward to working closely with the Board of Trustees, the Benedictine community, faculty, staff, students, and alumni to ensure that Saint Anselm continues to educate and transform students as it has for the last 129 years." 
At Saint Anselm, he will follow Dr. Steven R. DiSalvo, who will assume the role of president of Endicott College in Beverly, Mass. on July 1. DiSalvo's tenure at the college was distinguished by remarkable progress, including record enrollment, a significant rise in national liberal arts college rankings, and all-time high student retention and endowment growth, as well as the launch of the Faith in the Future Capital Campaign and campus development including the opening of the Living Learning Commons residence hall and the Roger and Francine Jean Student Center Complex.
"We are very excited about what he will bring to our college, and we look forward to a vibrant future under Dr. Favazza's leadership."

– Ann M. Catino, Esq. '82, Chair of the Board of Trustees
A native of Memphis, Tennessee and a first-generation college student, Dr. Favazza comes to Saint Anselm College from Stonehill College in Easton, Mass., where he has served as Provost and Vice President for Academic Affairs since 2012. His leadership helped shape Stonehill's intellectual culture by building a community of teaching, learning, and scholarly excellence among the faculty. He was also instrumental in the move to restructure the academic program into two schools, the Thomas and Donna May School of Arts & Sciences and the Leo J. Meehan School of Business, as well as to developing and launching targeted graduate programs. 
"Joe has a deep appreciation for the transformative power of a Catholic liberal arts education that inspires both the mind and the heart," says Stonehill President Rev. John Denning, C.S.C. "His contributions to Stonehill's enhanced academic profile and reputation are numerous. I am grateful to him for all he has accomplished and he leaves with our respect, admiration and good wishes. I know he will serve Saint Anselm with the same dedication and passion that he brought to everything he did here."
Prior to his current role at Stonehill, Dr. Favazza served as Dean of General Education, overseeing a new core curriculum and interdisciplinary programs, and Associate Vice President for Academic Affairs and Dean of the Faculty. He was a tenured Associate Professor of Religious Studies at Rhodes College in Memphis, Tennessee, as well as Director of the "Search for Values" Program for Interdisciplinary Humanities, which is based on the Great Books program of the University of Chicago and is foundational to the liberal arts curriculum at Rhodes.  
"Dr. Favazza is a strong academic, a man of great integrity, a man to whom his faith is the key element in his life, and a man who appears to be an excellent communicator with a healthy and helpful sense of both humor and self," says Abbot Mark Cooper, O.S.B '71, Chancellor and Chair of the Members of the Saint Anselm College Corporation. "I very much look forward to welcoming him to our college and working with him in any way I can be helpful, to make Saint Anselm into an ever finer Catholic institution of higher learning."
Abbot Mark served as a member of the search committee comprised of trustees, faculty, staff, administrators and students, which was chaired by Trustees Geraldine DeLuca '77 and Charles Crowley '81. The committee worked with executive search firm Isaacson, Miller to find the college's 11th president. 
"Dr. Favazza has deep academic experience and strong leadership skills exhibited in his collaborative management style. His Benedictine education and active engagement with the Catholic intellectual tradition underscores the ethos of the Saint Anselm community," said Crowley and DeLuca in a statement. "He will lead the college forward, embracing the importance of the liberal arts with a focus on developing programs to prepare students for the demands of the contemporary workforce." 
Other members of the search committee share the same optimism and excitement. "Not only does he have impressive academic credentials and administrative experience, but he understands the higher ed environment in New England, and he really cares about our Catholic, Benedictine, liberal arts mission," says Dr. Christine Gustafson, associate dean of the college and associate professor of politics. "I am excited to work with him as Saint Anselm continues to provide our students with a distinctive, high-quality education — one that equips them to navigate 21st-century challenges and to lead fulfilling lives."
Kerrin Norton '19 was the student representative on the search committee. "I was very impressed with Dr. Favazza's commitment to the education of the whole person," says Norton. "He recognizes the value of not only academics in shaping the individual, but also leadership development, extracurricular and co-curricular activities, athletics, service, and other experiential learning opportunities. I was also very happy to discuss with Dr. Favazza the role that he believes students have on campus. He stressed that student voices need to be heard, and hopes to find the best way to do so. He is approachable, a fantastic and intentional listener, and has a great sense of humor."
"Not only does he have impressive academic credentials and administrative experience, but he understands the higher ed environment in New England, and he really cares about our Catholic, Benedictine, liberal arts mission."

– Dr. Christine Gustafson, Associate Dean of the College and Associate Professor of Politics
After deciding to explore a religious vocation, Dr. Favazza attended St. Meinrad College, a Benedictine college in Indiana, where he hold a B.A. in History. He studied theology at St. Michael's College in Toronto before completing an M.A. and a Ph.D. in Religious Studies from the Catholic University of Louvain, Belgium. He has also earned a certificate from Harvard's Institute for Executive Management. Dr. Favazza has published and presented widely on a range of issues from ritual practices of forgiveness and reconciliation to academic leadership and pedagogy.
His wife, Dr. Paddy Cronin Favazza, Ed.D., is an accomplished professor and researcher in the field of Early Childhood Special Education. Her career has included appointments at the University of Memphis, the University of Massachusetts Boston, Rhode Island College, and Stonehill College. Her teaching, professional outreach, and research is focused on the inclusion of young children with disabilities, leading to international work in twelve countries. Both Drs. Favazza were named Senior Fulbright Scholars in 2000 and taught together for one semester at Babes-Bolyai University in Cluj-Napoca, Romania.  
The couple have four children: Alina, Ana-Marlise, Petr, and Isabella. Their three oldest children were adopted as siblings from Romania, and their adoption story was documented by Hallmark Entertainment as part of the series "Adoption" on the Hallmark Channel. Subsequently, the family also appeared on the Oprah Winfrey Show in 2002.
They presently reside in Sharon, Massachusetts, but look forward to relocating to their new home in New Hampshire as Dr. Favazza begins his tenure as president of Saint Anselm College on July 15, 2019.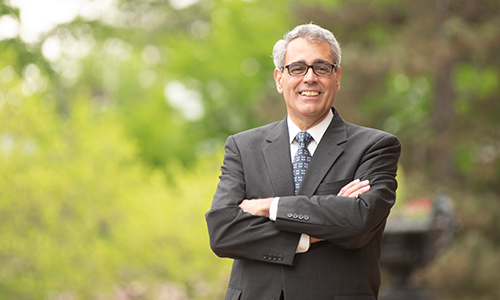 Dr. Joseph A. Favazza
"I look forward to building on the success of Dr. DiSalvo as we shape the future of Saint Anselm together. We know that the world needs more Anselmians, and I cannot wait to do my part to make this happen."