2020 Graduate to Teach in Peru through Fulbright Program
April 30, 2021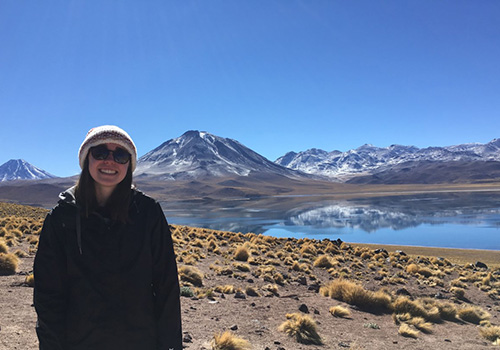 Meaghan Wilson '20 has received a Fulbright U.S. Student Program award to Peru. Wilson will teach English at an educational institution in Peru as part of the Fulbright English Teaching Assistantship (ETA).
The Fulbright U.S. Student Program awards grants to recent graduates and graduate students for research, study, and teaching programs in over 140 countries around the world. The program allows recipients to live and work in their host country, gaining a meaningful understanding of the culture.
"On behalf of the entire Saint Anselm community, we extend our congratulations to Meaghan Wilson on her Fulbright award to Peru. Meaghan represents the very best of our students: engaged, curious, and ready to learn and teach in new contexts. As a former Fulbrighter myself, I know how transformative this experience will be for her." said Dr. Joseph Favazza, president and former Fulbright Recipient to Romania.
In Peru, Wilson will follow her passion for English education to connect and work alongside her students.
"I am inspired by the power of language and its ability to bring people together. I knew that I wanted to be an ETA so that I could continue the impact of English education abroad like I had previously done domestically," said Wilson.
A Fulbright scholarship has been Wilson's goal since her first year at Saint Anselm. After studying abroad in both Santiago, Chile and Buenos Aires, Argentina, she is excited to return to South America. She credits Saint Anselm with valuable experiences which will allow her to excel in this new endeavor.
During her time as an undergraduate student, Wilson served as a classroom instructor through the Meelia Center for Community Engagement's Access Academy. This role gave her experience teaching students in the Manchester School District while developing classroom management skills and the confidence to work with students.
"The opportunity to work alongside the Manchester community has helped me realize my true passion for working with people, and I have my experiences at the Meelia Center to thank for that," remarked Wilson.
As a Spanish and sociology major with an education minor, Wilson's educational background led her to her Fulbright experience. A major in sociology guided her to become a fierce advocate for equity in the education system, while her Spanish education provided her the tools to communicate with her peers in South America.
Previously, Wilson conducted research on educational resource inequality in the United States, Chile, and South Africa during the summer of 2019 through a Gordon Fellowship.
"The opportunity to complete the Gordon Fellowship, where I studied educational inequality on an international level, solidified this passion and opened my eyes to the issues in the education system," added Wilson.
After her graduation in May 2020, Wilson began a year of service with AmeriCorps VISTA at the Meelia Center. In this position, she mentors college student K-12 tutors with an array of backgrounds in the New Hampshire refugee resettlement area.
It was after beginning this year of service that Wilson knew the time was right to apply for the Fulbright scholarship.
"All of my previous professional and volunteer experiences had culminated perfectly and I knew I had the knowledge and skill set necessary to attempt to receive a Fulbright grant," she said.
Wilson's assistantship in Peru will prepare her for a future career in school counseling with an urban population. She plans to carry out her mission to advance equity in educational opportunities in a high school setting, working with multicultural and multilingual students. Beyond strengthening her Spanish language skills, living and teaching in a foreign country will enhance her ability to form relationships with students in the future.
"With my significant experience in Peru through the Fulbright grant in hand, along with my passion for social justice, I will dedicate my career to advocating for my students and their families," said Wilson.
"The Fulbright English Teaching Assistant award will give [Wilson] the opportunity to grow as a citizen, a teacher and education advocate. A diversity of experiences both at home and abroad prepared her for an opportunity such as this," said Fulbright Program Advisor and Fine Arts Professor Kimberly Kersey-Asbury.