22 Students Receive Saint Anselm College's First Master's Degrees
May 24, 2022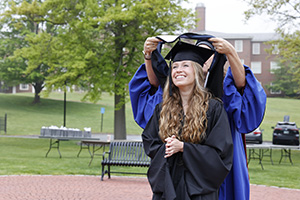 On Saturday, May 21, 2022, twenty-two students gathered on the Campus Green as Saint Anselm College's first class of students to receive master's degrees. During the ceremony, members of the faculty in the Criminal Justice Department hooded the graduates and honored their work over the past year.
"In 1895 the state legislature of New Hampshire authorized Saint Anselm College to grant academic degrees. Since that time the highest degree we've ever bestowed upon people was the bachelor's degree. Today that changes," explained Professor Peter Cordella, Ph.D., chair of the Criminal Justice Department, during his welcome. "You are part of a very special group. You are part of a very special cohort. You will be the first people ever at Saint A's to receive a graduate degree. I hope you never forget that."
The hooding ceremony took place prior to the 129th commencement exercises on the College quad. Members of the criminal justice department faculty, graduates, and their family and friends gathered informally to celebrate and look towards the future.
"The Anselmian family revolves around people - that's the best part of Saint A's and what makes it so bittersweet to leave. But I also think that's what holds us together. We're forever connected to the people who bring out the best in us, who look out for us wherever we go, and who inspire us to do the same for others whether we know them or not," reflected Casey Cavanaugh '21 MA '22.
During the ceremony, Cavanaugh received the Outstanding Graduate Student Award, designed to recognize and honor a student, who not only has demonstrated outstanding scholastic achievements, but an extraordinary commitment to the department, peers, and field, and has shown dedication and promise as a leader.
"Today's our day to realize, we're number one in a lot of ways. We're number one for getting this done, but we're also number one because there will never be a first-ever masters graduation after us at Saint Anselm," said Thomas Meal '21 MA'22 during his speech. "No matter what anybody ever tells you for the rest of your life, you are number one for at least one thing."
The first cohort of the accelerated masters of arts in criminology and criminal justice program was open to Saint Anselm College criminal justice, forensic science, cyber criminology undergraduate students and alumni or those who are earning or earned a minor in criminal justice. During the program, some students worked full-time, and many also competed on athletic teams. Graduates plans include working in law enforcement and further graduate study.
"This year, for me and all of my colleagues, has been an extraordinary year because of you. People are juggling and managing looking for jobs, working, playing sports, being TA's, all of that, while moving forward in one year to get this degree," said Professor Cordella. "I want you to not only feel proud that you are graduating, but to feel proud that you have set a standard for the college moving forward. I want to congratulate you and thank you for helping us make this dream become a reality."
Master's Degree Hooding Ceremony Photo Gallery
Photos: Class of 2022 Commencement Exercises »
Photos: Master's in Criminology and Criminal Justice Hooding Ceremony »
Related Links