540 graduate from Saint Anselm College
May 21, 2022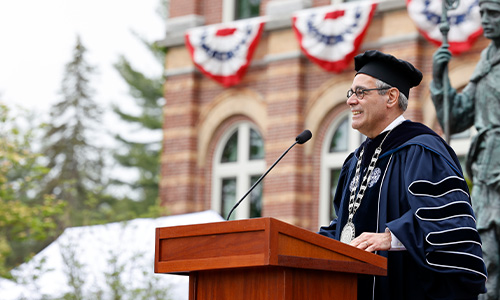 On a beautiful morning in front of historic Alumni Hall, 540 members of the Saint Anselm College class of 2022 were celebrated for academic achievement and for overcoming the challenges brought on by the pandemic during the 129th Commencement Exercises on Saturday, May 21.
The college's first graduate school class also received diplomas that day, with 22 students completing a 4+1 Master of Arts in Criminal Justice program
College President Joseph A. Favazza, Ph.D., reflected on the recent campus visit by filmmaker Ken Burns, who shared that having doubt leads us to a more reflective life.  
"We can never abandon our commitment to make citizens who are wise enough to know that doubt is a good thing and humble enough to seek new knowledge as a response to doubt. In a moment when it seems so many know so much about so little, we are in desperate need of such citizens," President Favazza said.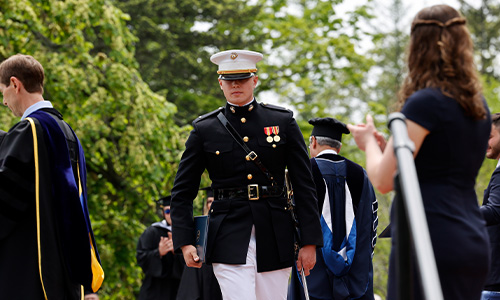 "You commence from us today as Anselmians and we are so, so proud of you," he added. "But never forget that what you have been given is not a private good – rather, it is to seek and to serve the common good as an active member of your community. "Volunteer, vote, be a generous donor to worthy causes, read broadly, choose social media wisely, and be an activist for equality and justice. Push limits even when you are unsure and uncomfortable instead of settling for the comfortable cave of certainty."
With temperatures forecast to reach into the 90s, the day's events were moved to earlier start times. The graduating seniors and their families rolled with the changes in the same good humor and high spirits they displayed throughout the past four years.
Following the invocation, Lillian Strang '22 sang the National Anthem and Kathleen McCarthy '22 presented the student address.
McCarthy reflected on the gift that she and her fellow students received during their time on the Hilltop: "A Saint Anselm education is an extraordinary treasure, arming us to help bring peace to a divided and troubled world."
"Let us recognize the privilege of having attended a school that explicitly emphasizes the dignity of the human person alongside the pursuit of excellence. A nursing program that stresses compassion, a business program that teaches ethics, biology and chemistry programs that express the seeking of truth – these, along with the faith-seeking-understanding tradition found in every discipline, are what make Saint Anselm so special," she said.
Abbot Mark Cooper, O.S.B., '71, the Chancellor of Saint Anselm College, was joined by Dean of Academic Excellence Christine Gustafson, Ph.D. in presenting Ariana LoFaro with the Chancellor's Award for the highest grade-point average of 3.977.
Professor Tauna Sisco, PhD., was honored with the American Association of University Professors Award for her dedication to her students, her field of sociology, and the college community.
 
Honorary Degree Recipients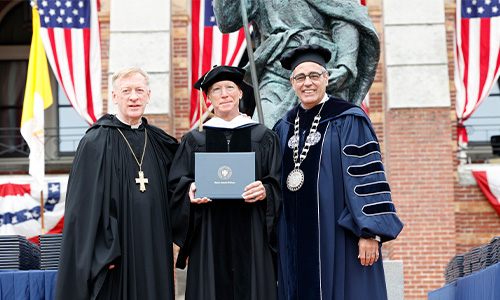 Fr. Columba Stewart, O.S.B., received an Honorary Doctorate of Humane Letters in recognition of his work preserving tens of thousands of centuries-old Christian and Islamic writings from around the world. Fr. Columba is the executive director of the Hill Museum & Manuscript Library at Saint John's University in Collegeville, Minn.
Professor Ahida Pilarski, Ph.D., chair of the theology department, introduced Fr. Columba, who then delivered the commencement address, focusing on the themes of courage, providence, friendship and gratitude.
He shared the story of his journey from an undergraduate at Harvard University who thought his path would lead him to graduate school but instead led him to a monastic life in Minnesota and a vocation "partnering with communities around the world to preserve their handwritten heritage, their manuscripts."
"I never saw it coming. But I was ready. How did that happen? I'll say it was providence. And I'll say it was a fine liberal arts education like yours. Sometimes a new door suddenly appears before us. I encourage you at least to open it and peek inside, and seriously consider walking through it. It may just be part of the plan."
In addition to Fr. Columba, Saint Anselm alumna E. Carol Polifroni '71 received an Honorary Doctorate of Science for her distinguished nursing and education career. She was presented by Professor Maureen O'Reilly, Ph.D., the executive director of the nursing department. And longtime Head of School at Woodside Priory Tim Molak received an Honorary Doctorate of Humane Letters. He was presented by Professor Laura Wasielewski, Ph.D.
 
Convocation and Baccalaureate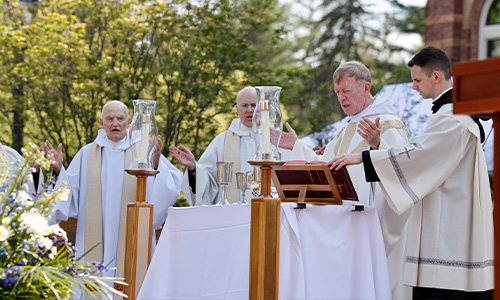 A day earlier, the Saint Anselm community celebrated the Class of 2022 with the Senior Academic Honor Convocation and Baccalaureate Mass, which were held on the college quad.
Thirty-three academic awards were bestowed on the graduands during convocation, in addition to recognition of those who were inducted into the chapters of 17 honor societies and the 15 students who earned summa cum laude distinction.
Following convocation, 15 members of the monastic community celebrated the Baccalaureate Mass, with Abbot Mark serving as the celebrant. They were joined by the college choir, who led the singing of liturgical music, and members of the Class of 2022, who led the readings. 
Four students were commissioned in the military: Matthew Korzec, Jacob Labounty and Caitlin Morgan were sworn in as Army officers, while Jack Schoonmaker was commissioned an officer in the Marine Corps.
As they depart the Hilltop, many graduates will begin their careers with employers such as Fidelity Investments, The Walt Disney Company, BAE Systems, and Catholic Medical Center.
Class of 2022 Commencement Photo Gallery
Photos: Class of 2022 Commencement Exercises »
Photos: Master's in Criminology and Criminal Justice Hooding Ceremony »