607 Students Volunteer in Local Community During Orientation
August 26, 2019
On Friday, August 22, 541 first-year students and 66 orientation leaders volunteered at 29 non-profit community partners throughout the Manchester and Goffstown communities for the college's annual New Student Orientation Brian Maguire Day of Service.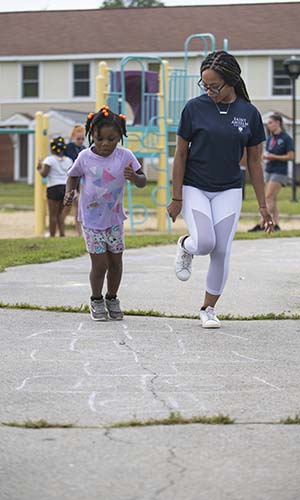 The entire freshmen class is participating in various service projects including landscaping and gardening, painting, cleaning, sorting clothes, books, and other items, and interacting with children or the elderly. The 29 sites range from Hillsborough County Nursing Home in Goffstown to Girls at Work in Manchester to Fresh Start Farms in Dunbarton.
The service opportunity is coordinated by the Meelia Center for Community Engagement which partners with more than 50 nonprofit agencies throughout the academic year to provide Anselmians with meaningful opportunities for service and engagement.
"The day of service is a wonderful introduction to the culture and importance of service at Saint Anselm College," says Christine Drew, the Program Coordinator for Community Partnerships at the Meelia Center for Community Engagement. "It is also a way for students to now be a part of their new Manchester community and work alongside community members for the betterment of community."
Two groups at Bartlett Elementary School in Goffstown helped with a variety of tasks. The volunteers split into smaller groups to take on several projects to prepare the school for the beginning of the academic year. Students sorted books, decorated bulletin boards, painted walls and murals, and even did some outdoor clean-up.
Volunteers also served Elmwood Gardens in Manchester, a collaboration with the Elmwood Garden Tenant Association and Granite State Organizing project to support the educational development of children in grades 1-8 who reside at Elmwood. There, students had a field day with the children, helped with some community clean-up, and recruited students to volunteer throughout the academic year to provide the children with homework help.
The day of service originated nearly 20 years ago in honor of former student Brian McGuire. Dan Forbes, Director of the Meelia Center for Community Engagement, says that the goals of the day of service are to build bonds between the students, introduce them to the ethic of service, complete important community work, learn about the opportunities available to serve others, and finally, to begin rooting the students in their new community.
Photo Credit: Perry Smith
Related Links