95% of the Class of 2020 Employed, in School, Volunteering
June 29, 2021
The class of 2020 faced a unique set of challenges in their first post-graduate year. From an early departure from campus in March of their final semester, to navigating the Covid-19 pandemic along with the rest of the world, their transition away from the Hilltop was anything but typical. Despite these challenges, 95% of identified graduates were either employed, pursuing further education, or participating in volunteer or service opportunities.
This data comes from the First Destination Report, among other sources, which surveys recent graduates about their current career paths, and the resources they used to get there. This year's findings account for 72% of the class of 2020 who responded to the survey.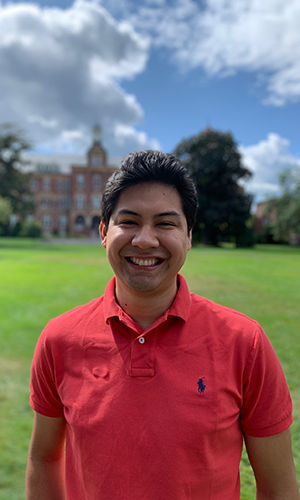 Careers and Employment
Roque Otazo, a computer science major, works as a Level 1 Technician at unWired Broadband Inc. Otazo is one of 77% of survey participants who indicated they were employed. Of those who stated employment, 85% indicated they were employed within six months of graduation. And, of those alumni who reported salary information, 44% earn more than $50,000 per year.
Many Saint Anselm graduates have chosen to stay local after graduation. Ninety-three percent of employed graduates are working in New England. The organizations that hired the most Anslemian alumni are Fidelity Investments, Massachusetts General Hospital, Skillcloud Consulting, and Beth Israel Deaconess Medical Center.
The Covid-19 pandemic significantly impacted the economy and job market, creating a difficult job search process for new graduates. Thirty-nine percent of respondents stated the pandemic had "very significantly impacted my post graduate plans." The Career Development Center staff anticipated these challenges and worked to provide resources for the students.
"The Career Development Center undertook a significant project in the spring of 2020 to reach out personally to each and every graduate, checking in on them and offering continued assistance with their job search," said Director of Institutional Research Joyce Larson. "This level of care is one of the reasons I'm so happy to be here at Saint Anselm."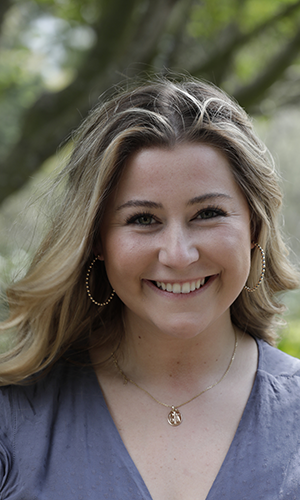 Continuing Education
Caroline Ihlefeld majored in Psychology and went on to earn her Master of Science in Industrial Organizational Psychology at Sacred Heart University. Ihlefeld is not alone in this; 24% of respondents indicated they are furthering their education. This statistic has risen significantly from previous classes, which averaged 16% of respondents continuing their education in the past five years.
Of those pursuing further education, 58% are enrolled in master's degree programs, like Ihlefeld. Others are pursuing doctorates, law degrees, a second bachelor's, or associate's degrees, as well as certificates.
The psychology, education, criminal justice, and politics departments had the greatest number of alumni pursuing graduate or professional education.
Some other colleges and universities alumni attend are Boston College, Emerson College, New York University, Northeastern University, Suffolk University, Tufts University, University of Notre Dame, and for the first time, Saint Anselm College.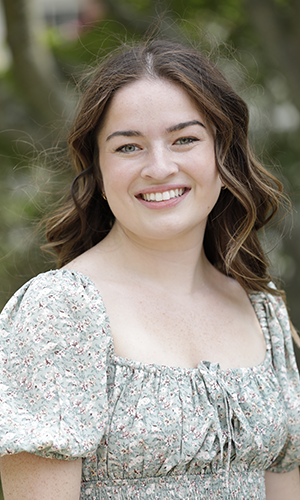 Volunteer and Military Service
Kaitlyn Brine, a peace and justice studies major, is one of eight graduates (3%) who indicated they are working for volunteer service organizations. Brine serves with the Saint Joseph Worker Program in Los Angeles, Calif., where she is a case manager at Homeboy Industries. Additionally, four graduates are serving in the United States military.
Career Preparation
Saint Anselm College offers several opportunities to prepare students for their job search and careers. Thirty-seven percent of respondents said they participated in professional development activities through academic departments, while 64% said they discussed career plans with a faculty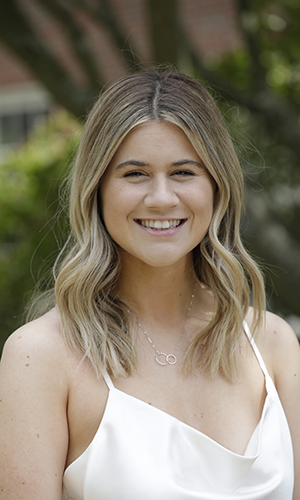 member or advisor prior to graduation. Sixty-six percent said they visited the Career Development Center or attended one of their events before graduating.
Katherine Buck, a communication major, now works at TJX Companies as a merchandise assistant. The summer before her senior year, she secured an internship at the company in their Human Resources and Learning Development department. It was in this role that she discovered her passion for merchandising, leading to a full-time position at TJX after graduation.
Buck's path is similar to many of her peers; 48% of respondents indicated they completed at least one internship prior to graduation. Of those, 52% completed more than one internship.
"We wish to remind recent graduates, from the class of 2020 and 2021, that the Career Development Center is here to help alumni who may require career assistance. Recent alumni have access to their Handshake account to search and apply for jobs, and access career resources," said Dorin Thibault, assistant director of Employer Relations with the Career Development Center.
A Sampling of 2020 Graduates:
Accounting: Business Analyst II at Liberty Mutual Insurance.
Biology: Clinical Research Associate at Beth Israel Deaconess Medical Center.
Business: Support Advisor at Rise Private Wealth Management.
Communication: Talent Acquisition Coordinator at Cole Haan.
Computer Science: Associate Software Engineer at Fidelity Investments. 
Education: First Grade Teacher with Needham Public Schools in MA.
History: Post-Graduate Service as a Core Staff Member at Andre House in AZ.
Marketing: Marketing Associate at Salary.com
Neuroscience: Physician Assistant student at the University of Saint Joseph
Nursing: Registered Nurse at Spaulding Rehabilitation Hospital.
Politics: Legislative Assistant at the New Hampshire House of Representatives.
Psychology: Community Residence Counselor at McLean Hospital.
Social Work: Social Worker at MA Department of Children and Families.
Related Links