99% of the Class of 2021 Employed, in School, or Volunteering
May 3, 2022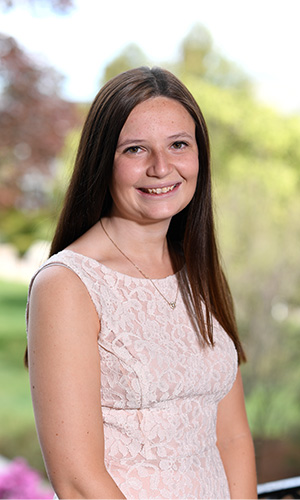 The Saint Anselm College class of 2021 graduated during a difficult time but their next steps proved to be fruitful, nonetheless. Ninety-nine percent of the identified graduates were either employed, continuing their education, or participating in volunteer, military, or service opportunities within six months after graduation. 
This data comes from the college's First Destination Report, among other sources, which surveys recent graduates about their current career paths. This year's findings account for 87% of the class of 2021 who responded to the survey.
Careers and Employment
Morgan Sweeney '21, a behavioral neuroscience major and history minor, works as an applied behavioral analysis (ABA) therapist for Northeast Arc in Massachusetts. Sweeney is one of the 81% of survey participants who indicated they were employed. She is also continuing her education to earn a master's in science in applied behavioral analysis. 
"Saint Anselm gave me both a strong educational foundation and life experiences that led to my success finding a job immediately post-graduation and in applying to graduate school," said Sweeney. "I was able to draw on relevant experiences throughout my college career, such as service trips through Campus Ministry, my internship in College Advancement, and leadership roles in clubs on campus during these processes."
Continuing Education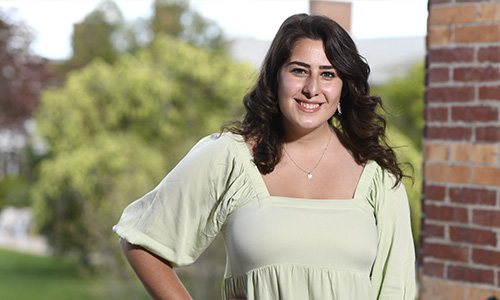 Eva-Maria Rudler '21 is continuing her education at George Washington University. The chemistry major and forensics minor is earning her master's in environmental chemistry. Jenifer Wallitsch '21, a criminal justice and politics double major is attending Friedrich Schiller University in Jena, Germany where she is studying international organizations and crisis management. Rudler and Wallitsch join 13% of their classmates who are also continuing their education. In addition to master's degrees, recent alumni are pursuing doctorates and law degrees. Some other colleges and universities alumni attend are Boston College, Boston University, Georgetown, Northeastern University, University of Notre Dame, and Saint Anselm College.
Volunteer
Several recent alumni chose to spend a year after graduation serving others. Volunteer opportunities took members of the class of 2021 to Loretto Volunteer program in Denver Colorado, Mercy Volunteer Corps in Sacramento, Calif., and Andre House in Phoenix, Arizona. Three percent of the class of 2021 indicated they are working for volunteer service organizations which includes one alumnus who went into the Army and one who is joining the Saint Anselm Abbey. 
A Sampling of 2021 Graduates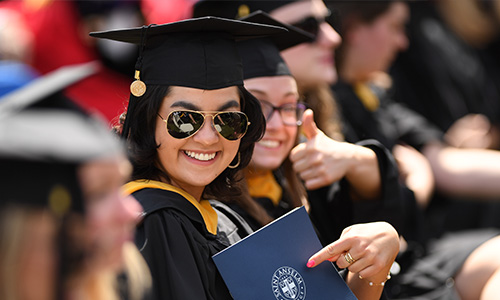 Accounting: Revenue Accountant at Houghton Mifflin Harcourt.
American Studies: Investor Services Associate at Putnam Investments.
Applied Physics: Operations and Purchasing Coordinator at Sunrise Labs.
Biochemistry: Environmental Analyst at Lonza Biologics.
Biology: Research technician at Dana Farber Cancer Institute. 
Business: Emerging Technologies Specialist at Dell EMC.
Communication: Delegate Relations Executive at RTM Business Group. 
Computer Science: Quality Engineer at Raytheon Technologies.
Criminal Justice: Case Manager at Nussbaum Law Group.
Economics:  Contracts Leadership Development Program at BAE. 
History: Inside Sales Rep at Sappi.
Natural Science and Secondary Education: Science Teacher at Londonderry High School.
Nursing: Registered Nurse at Portsmouth Regional Hospital.
Psychology: Behavioral Therapist at South Shore Autism Center.
Social Work: Social Services Clinician at Butler Hospital and Master's in Social Work at Rhode Island College.
The first destination survey identified Massachusetts General Hospital as the top employer, hiring 14 graduates. Brigham and Women's Hospital, Tufts Medical Center, Fidelity Investment, and Saint Anselm College follow in the top five employers.  
---
Related News