Grant Introduces STEM Majors to Teaching
December 19, 2018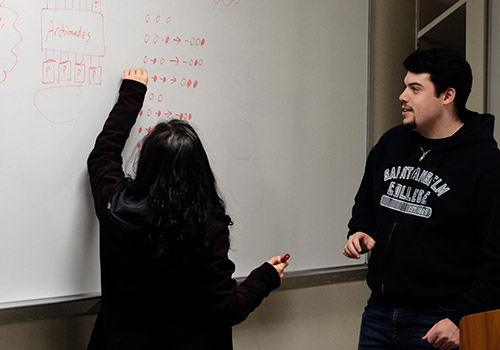 The National Science Foundation has awarded a Noyce Capacity Building Grant to Saint Anselm College for the 2018-2019 academic year. Led by education professor Kelly Demers and physics professor Nicole Gugliucci, the grant will allow the college to create new STEM (science, technology, engineering, and mathematics) courses for the Meelia Center for Community Engagement's Access Academy Program, while also encouraging more Saint Anselm STEM students to enter education through clinical teaching experience in the program.
The grant was co-authored by professors David Guerra (physics) and Laura Wasielewski (education), with Terri Greene Henning, Meelia Center Education Specialist and Outreach Coordinator, and significant contributions by Meelia Center Director Dan Forbes. The team also includes external evaluator Georgia Bracey, a researcher at the STEM Center for Research, Education, and Outreach at Southern Illinois University, Edwardsville, Ill.
The authors hope to achieve two primary objectives: to facilitate Saint Anselm STEM students' interest in teaching, and to provide these students with a teaching opportunity. Entitled "Blazing the Trail for STEM Teachers: A Noyce Capacity Building Project," the grant allows STEM and education faculty to cultivate an atmosphere conducive to preparing the next generation of STEM teachers. Two new Access Academy courses will be funded per semester for the 2018-2019 academic year; each course requires two STEM students to work with one education student to create lesson plans and facilitate a positive classroom environment. During the fall semester, the courses funded by the grant were "Q is for Quantum" and "Science in Books and Movies."
"Q is for Quantum," led by physics professor Ian Durham and students Mike Breen '20, Nate Letteri '21, and Ashley Berthiaume '21, centers on the book "Q is for Quantum" by Terry Rudolph, which all Access students received at the beginning of the course. The text and corresponding lesson plans assume a knowledge of basic algebra and help students understand the concept of quantum physics. "We felt it was a great place to start," said student coordinator Breen, a physics and computer science major. "The book presents the material in a way that is easy to read, and because they all have their own copies, our students can read along with lessons to supplement their work in class. Having the texts (thanks to the grant) has been a really big help."
"Science in Books and Movies," led by professors Nicole Eyet (chemistry) and William Ryerson (biology) and students Julia Krutul '22, Paige Labelle '20, and Katherine (Kat) DeFronzo '20, aims to take what students know about science from pop culture and put it to the test. Designed to provide a well-rounded view of general science topics, the course relates them to the real world. Labs are based on material such as the Pixar animated movie "Up" (testing how many balloons lift a gram and how many would be necessary to lift a house) and Steven Spielberg's "Jurassic Park" (comparing what dinosaurs are scientifically theorized to have looked like to their portrayal in the movies). These activities were particularly important to the Saint Anselm student coordinators, as many local high schools are not able to provide their students with lab sciences. "The grant allowed us to purchase lab materials and supplies we couldn't have afforded without it, including paleontology kits to pull DNA from strawberries and balloons for the "Up" exercise," reported behavioral neuroscience major Krutul.
"This grant gives Saint Anselm STEM student the option to explore the education field and supports more STEM majors to enter teaching as a future career path," said Professor Demers.
When asked if he would consider going into education after graduation, Breen said, "It wasn't on my radar, but this experience in class and the experience actually teaching has me considering it."
"We're creating a community," said secondary education and mathematics major DeFronzo of the course. "It's important, despite the political climate, to show these students that no matter what is going on, they belong and they're important."
The spring courses supported by the STEM grant are "Radios for Jupiter," an introduction to radio astronomy, and "Remote Sensing: Using Technology to Map Your World," which will introduce students to the field of remote sensing and to using GIS technology to explore spatial relationships.
Access Academy is an afterschool academic program for Manchester, N.H., public high school students developed by the Saint Anselm College Meelia Center for Community Engagement. The Academy serves students who might typically be underrepresented in higher education (e.g., low-income, first generation, immigrant, refugee, and students not living at home). Access courses are taught primarily by trained and mentored Saint Anselm students, with in-class support from college volunteers and service-learners; some Access courses feature Saint Anselm College faculty/staff as co-collaborators and co-teachers alongside the college students. High school students enrolled in Access Academy earn academic credit (extended learning opportunity credit) at their respective high schools upon successful completion of the 10-week courses.