Abbey Players Present One-Act Plays
January 24, 2019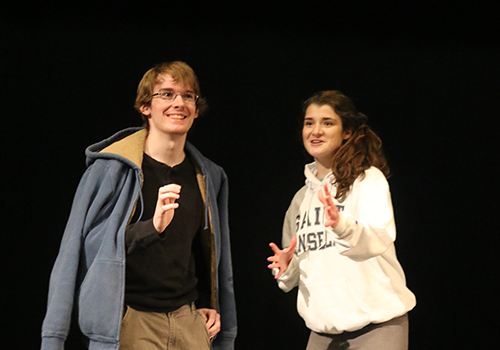 On Thursday, January 31, the Saint Anselm Abbey Players will present their annual One-Act Play Festival in the Koonz Theatre of The Dana Center for the Humanities. Three one-act plays directed and performed by students will take the stage, continuing the players' tradition of delivering highly original and entertaining performances. The plays will be held throughout the weekend on February 1 and 2 at 7:30 p.m.
Since 1983, the One-Act Play Festival has given students the chance to write and direct their own theatrical piece. This year, three one-act plays will be directed by three different Saint Anselm students, with one of the three plays written by the student as well.
Criminal justice and international relations double major Julia Nosel '19 directs her original play, "Sassily Ever After," a parody of classic fairy tales which takes the audience on a journey of adventure, hilarity, and second chances for an eclectic group of fairy tale characters. Julia has always enjoyed writing stories and found the one-act play to be a fun challenge. "It took a few drafts for me to be happy with it, but I am very excited for this story to take the stage at last" she says. She also enjoyed her role as director, giving kudos to her cast by describing them as "phenomenal with great instincts for humor". 
English and history major Kelsey Warner '19 directs a one-act cut of "I Never Saw Another Butterfly," a book by Celeste Raspanti featuring a collection of art and poetry by Jewish children who lived in the concentration camp Terezin. "The story follows two young women who were determined to help children hold onto their childhood innocence despite the darkness that surrounded them in their every day lives during the Holocaust," Kelsey says of the plot. This is Kelsey's second time directing a one-act play and while she understands the story's dark subject matter, she emphasizes the play's universal story of hope.
Finally, politics and criminal Justice double major Thomas Meal '20 directs "Reese and Babe," a play by Lew Holton. In this comedy, a young couple struggles to make sense of a situation after Babe accidentally hits a prized circus chimp with her car and Reese buries the car behind their house. A visit from a distraught clown and an investigative policeman make for a chaotic yet hilarious ending to this one-act play.
Thirty-nine students are participating, both behind-the-scenes and on-the-stage from directors, producers, and board members to the tech crew and actors. Students have been rehearsing since November.
Tickets for the One-Act Play Festival at Saint Anselm College may be purchased on-campus at the Dana Center or online. Tickets for Saint Anselm students are $7, faculty, staff, alumni, seniors, and youth are $10, and adult reserved seating is $11.