Accounting and Math Major Recognized for Highest GPA in Graduating Class
May 20, 2020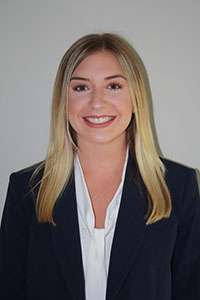 Accounting and mathematics double major Chloe Ross, of Franklin, Mass., was named the Chancellor's Medal recipient at Saint Anselm College's virtual graduation ceremony on Saturday, May 16. Ross, a member of the class of 2020, earned a 3.981 GPA, the highest academic average among her graduating peers.
On what would have been the class of 2020's commencement day, Saint Anselm College celebrated its graduating seniors with a Celebration in Honor of the Completion of Graduation Requirements. The event streamed live from the Abbey Church where College President Joseph A. Favazza, Ph.D., addressed the class and then certified that they had completed their graduation requirements. Dean of the College Mark Cronin, Ph.D., then read each of the 483 graduates' names.
"When I was watching the virtual graduation and they started to talk about the student with the highest GPA and the Chancellor's Medal, I was so overcome with emotion. My family and I were so surprised and excited," said Ross. "It is definitely a moment I will never forget, despite the ceremony being online."
Ross graduated summa cum laude with honors. She was a member of the honors program and several honor societies: Alpha Lamba Delta, a national scholastic honor society for first-year college students, the National Honor Society of Leadership and Success, and Sigma Beta Delta, a national Honor Society for students in business, management, and administration.
She was an orientation leader for two years and served on the college's Campus Activities Board (CAB) organizing events for students on campus. Also involved in the community, Ross volunteered through the college's Meelia Center for Community Engagement where she tutored children in Manchester through the Bring it Program. She was a member of the Student Alumni Ambassador Program working with the Office of Alumni Relations to launch events connecting alumni with current students.
In the classroom, Ross completed research with mathematics Professor Stephen Shea. Having studied the history of fraud in the United States through her business courses, she then created a mathematical model using graph theory to represent fraudulent financial reporting. She analyzed this mathematical model for patterns when fraud can or cannot be detected. She used that research to write her honors thesis.
During her time as a student, she completed an internship at Wolf & Company, P.C., in Boston, Mass., where she assisted with audit testing, client visits, and reconciliations. After graduation she plans on studying for and taking the CPA exam. She is looking forward to starting as a staff accountant in the audit department at Wolf & Company, P.C., in September.
At the college's celebration event, Br. Isaac Murphy, O.S.B., vice president for academic affairs, said it was his honor and privilege to announce Ross as the recipient; Abbot Mark Cooper, O.S.B., college chancellor, will present her with the medal at the rescheduled, in-person commencement at a later date. The initial commencement exercises were postponed due to the coronavirus pandemic.
Related News