Alumna Receives Fulbright Award to Teach
May 11, 2022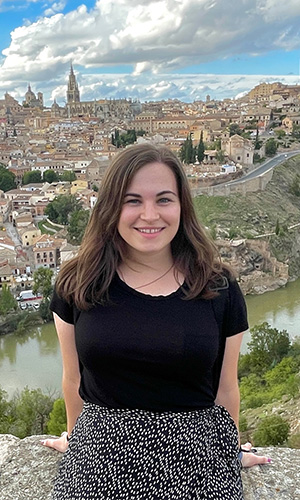 Kathryn McGillivray '20 has been living and working in Spain for the past year teaching English as a second language at Colegio Senara, an all-girls, Catholic school in Madrid. This experience will serve her well next year as a Fulbright Scholar in Argentina.
From March to December of 2023, McGillivray will serve as an English teaching assistant in an English teacher training college or university in Argentina. She plans on building connections between her university students and local K-12 students and sharing her passion for music by founding a guitar club during her time there. She also hopes to document her time in Argentina with photographs and will make a booklet highlighting everyday life and culture to share in the classroom after she returns to the United States.
Since graduating in 2020 as a Spanish and Secondary Education major at Saint Anselm College, McGillivray has been teaching, first as a Spanish teacher at Ashland Middle School in Massachusetts, then in Madrid. In her current role, McGillivray is working with third through tenth graders leading small group lessons and preparing students for the Cambridge English proficiency exam.
"I see Fulbright as a direct extension of our own Benedictine mission, and commitment to service at Saint Anselm College. Whether students are applying for an English teaching assistantship or an independent research project, Fulbright asks its applicants how they see themselves contributing to the host country and the local community to which they will live, and how to they see themselves as growing and learning from such an experience," said Fine Arts Professor Kimberly Kersey Asbury, a former Fulbright recipient to Botswana and the Fulbright Program Advisor for the College.
McGillivray is the second student in two years to participate in the Fulbright Student Program. Meaghan Wilson '20 received an award for the 2021-2022 academic year to teach English as a second language in Peru.
"The entire Saint Anselm community extends hearty congratulations to Katie McGillvray from the class of 2020 on her Fulbright award to Argentina. This is a great honor and is a testament to her many achievements and the outstanding academic stewardship provided by our faculty. As a former Fulbrighter, I know firsthand that this experience will be truly transformative and we wish Katie all the best with this exciting opportunity," said President Joseph A. Favazza Ph.D., a former Fulbright recipient to Romania.
The Fulbright U.S. Student Program awards grants to recent graduates and graduate students for research, study, and teaching programs in over 140 countries around the world. The program allows recipients to live and work in their host country, gaining a meaningful understanding of the culture.
The Fulbright U.S. Student Program is administered at the Saint Anselm College under the auspices of the Academic Dean's Office through the Fulbright Campus Committee and Fulbright Program Adviser, Prof. Kersey-Asbury. For more information see https://www.anselm.edu/academics/fulbright-program.
Related Links