Alva de Mars Megan
October 23, 2020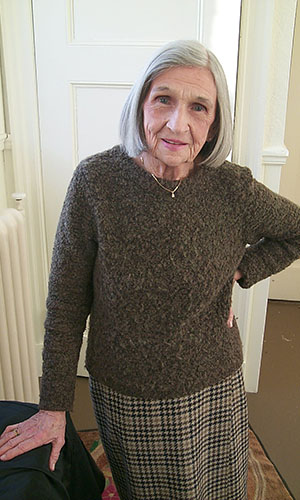 On Tues., Sept. 22, 2020, Alva de Mars Megan, passed away at the age of 93. Megan's legacy is encapsulated in the Alva de Mars Megan Chapel Arts Center at Saint Anselm College that shares her namesake.
Born in East Boston, Mass., Megan grew up in Belmont, Mass., before becoming a longtime resident of Exeter, N.H. She earned a degree in fine arts from Dunbarton College in Washington, D.C. In 1951, she married Francis (Frank) J. Megan, Jr.; the couple had 10 children and then 15 grandchildren.
An accomplished painter, Megan loved animals and the outdoors, especially the White Mountains. She also enjoyed spending her summers at Canobie Lake, walking Rye Beach as well as sailing. She dedicated herself to faith as an active member of St. Michael's Church in Exeter.
Since Saint Anselm College's Alva de Mars Megan Chapel Art was founded in 1967, the gallery has housed a permanent collection of artworks as well as provided a gracious setting for special exhibitions.
The gallery was dedicated to Megan in the early 2000s by her husband, a Saint Anselm College alumnus. Mr. Megan had been a major benefactor of the college for many years. For his continued generosity, the college gave him the privilege of naming the Chapel Art center in his wife's honor.
Director of the Chapel Arts Center, Father Iain Maclellan, O.S.B., had met Alva on several occasions throughout the years. "I found her [Alva] to be remarkably strong and peaceful—a very warm and loving woman. I had also known her son Jay very well," says Fr. Iain.
He also mentioned Megan's adoration of the gallery's vaulted ceiling murals painted by Father Raphael Pfisterer, O.S.B.
"I recall at the luncheon in honor of the naming of Alva de Mars Megan Chapel Art Center, Alva called the ceiling murals Saint Anselm's Sistine Chapel," says Fr. Iain.
Senior Vice President of College Advancement Jim Flanagan shared some thoughts on Alva's passing.
"The entire college community's thoughts and prayers go out to Alva and the entire Megan family," says Flanagan.  "We will be forever grateful for her support and love for the arts at Saint Anselm College."
Above all, Alva enjoyed spending time with her family. In order to celebrate her life, Alva's family and close friends held a private memorial service.