Artist Emily Noelle Lambert Presents Paintings and Sculpture in Dana Center Exhibition
November 9, 2021
A special exhibition at Saint Anselm College's Dana Center for the Humanities presents the paintings and sculpture of New York City artist, Emily Noelle Lambert with an opening reception on Wed., Nov. 10, 4:30 – 6 p.m. Lambert's work will be on display in the Dana Center Alcove Galleries Nov. 10, 2021 – Jan. 9, 2022.
Fine Arts Professor Kimberly Kersey-Asbury curated the show while the Saint Anselm College Exhibition Team comprised of fine art students assisted in the layout and installation.
"I think Emily's work is very exciting. It has a lot of energy and so much joy," says Professor Kersey-Asbury.  "Her work is grounded in painting. Even her sculptures are painterly, and paintings in turn sculptural. I think visitors to the show will be delighted by the range, a sense of play, and an element of surprise, from work to work."
Speaking of her work, Lambert says, "I love swimming in a kind of visual mystery of things between abstraction, landscape and figuration. My work moves between large paintings, assemblages, and painterly sculptures. In my paintings play and experimentation propel my process. I am collaging pieces of experience, impression, memory sometimes literally with found objects other times recapturing a sense of place and space. I search for interactions between materials, colors and forms and often switch things up to keep my curiosity fresh."
About the Artist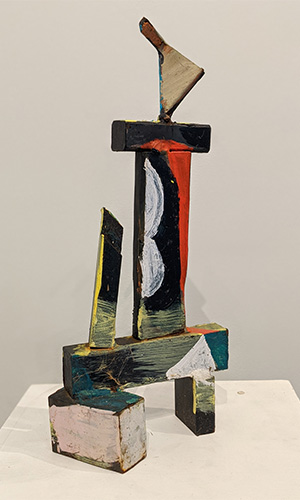 Lambert received her MFA from Hunter College and her BA in Visual Art from Antioch College. Lambert has shown nationally and internationally including solo exhibitions in New York City at Denny Dimin Gallery, Lu Magnus Gallery and Priska Juschka Fine Art, Thomas Robertello Gallery in Chicago, and IMART in South Korea.
Her work has been included in numerous group exhibitions including at the Ringling Museum of Art in Sarasota, Florida, The University of Michigan in Kalamazoo, The Torrance Art Museum in Torrance, Calif., and RH+Gallery in Istanbul. She has been awarded fellowships from MacDowell, The Yaddo Foundation, Fountainhead Residency, Vermont Studio Center, Dieu Donne, The Alfred and Trafford Klots International Artist Residency, Dieu Donne, Canterbury Shaker Village, DNA Residency, and the Lower East Side Printshop.
Lambert's work has been reviewed in The International New York Times, The Observer, The Brooklyn Rail, Modern Painters, The Washington Post, Art in America, and artforum.com. She recently joined the faculty at Keene State College where she teaches painting and drawing. Lambert now lives in Peterborough, N.H.
The exhibition is open to the public. Visitors are required to wear masks indoors. Please review the College's Visitor Policy for up-to-date COVID-19 guidelines.
Related Links