Boston Regional Network Gathers for a Day of Service
November 4, 2019
Local Boston-based alumni and current students teamed up at the Greater Boston Food Bank Saturday, November 2nd for the 3rd annual Boston Regional Network Day of Service to sort food that will be distributed to hunger relief agencies.
"I think this day is important to help those inside our community. Being able to support those who are need of assistance, helps enrich their lives and ours," said Kylie Desrosiers, Associate Director Alumni Relations and Advancement Programming. 
While sorting through nearly 17,000 pounds of food, the Saint Anselm team along with other volunteers, made 13,337 meals possible for distribution, with 4,368 meals feeding a family of four for a whole year. The attendees expressed what a great experience working together at the food bank was and look forward to future events. 
The Boston Regional Network has worked with the Greater Boston Food Bank for this event since 2016. This relationship is in part due to Saint Anselm alumni Catherine Drennan '09, who is the food bank's Director of Communications and Public Affairs. A special thank you to both Drennan and Desrosiers for organizing this event, as well as all the alumni and current students who came together to help the Greater Boston Community. 
The Saint Anselm regional alumni networks are operating in Boston, Mass., Hartford, Conn., Manchester. N.H., New York, N.Y., and Washington, D.C., and offer alumni a meaningful way to stay connected to the Hilltop. These networks and the events they host each year keep alumni engaged and informed about Saint Anselm College. If you are looking to get involved in your city, you can start by filling out a volunteer form.
The Boston Regional Network meets again Wednesday, December 18 for the Annual Boston Christmas Reception.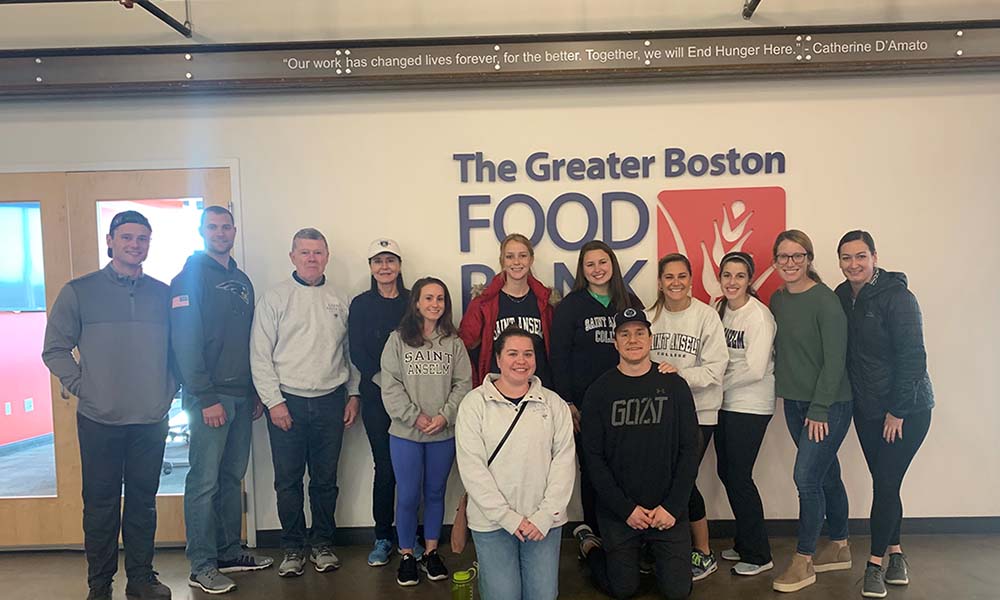 Pictured from left to right: Back row, standing: Autrey Gates '17, Joe Levasseur '17, Jack Pierce '73, Regina Fuertes (Guest of Jack Pierce), Kristen (K.C.) McGoey '09, Hannah Pepper '19, Ashlee Locke-Hunter '22, Devon Savage '13, Maire Lynch '13, Maura Greer '09, Catherine Drennan '09. Front row, kneeling: Kylie Desrosiers, Staff, Tyler Savage '13